Nieuwenhuis leads charge; Mets capitalize on errors
Nieuwenhuis leads charge; Mets capitalize on errors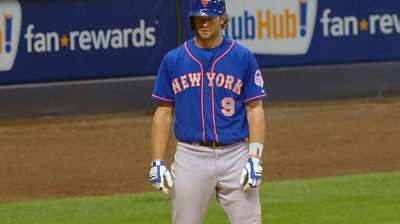 MILWAUKEE -- The return of Ike Davis was successful, but not sensational, the mound work of Zack Wheeler was adequate, but not exemplary, the efforts of the Mets were solid, but not pristine. And none of it really mattered. The Brewers made so many unforced errors of their own on Friday evening that the Mets, for all their imperfections, cruised to a 12-5 victory at Miller Park.
"That's how you win at this level," manager Terry Collins said. "If you're going to have games where teams are going to give you outs, you'd better take advantage of it."
It began early, when Johnny Hellweg, a rookie starter boasting nearly as much fastball firepower as Wheeler, walked in a run during a two-run first-inning rally. The Mets then rattled off a three-run effort in the second inning thanks to Jean Segura's fielding error, and a two-run burst in the fourth on the strength of Aramis Ramirez's miscue.
Though the Brewers committed only three official errors in the game, they made several other critical blunders, including a missed catch opportunity down the right field line, three baserunning mistakes and a puzzling fielder's choice -- Hellweg eschewed the sure out at first base for an unsuccessful attempt to nab a runner straying off third -- that loaded the bases in the second. Four of the seven runs against Hellweg were unearned.
"I'm not making plays myself," Hellweg said, "so that's not something I'm dwelling on."
For their part, the Mets certainly took advantage, coming up with two-out RBI hits in the second and sixth innings. Kirk Nieuwenhuis in particular made the most of his opportunity to bat fifth in the lineup, finishing with four hits, two walks, three runs scored and a career-high five RBIs. No Mets player had reached base six times in a nine-inning game since Mike Piazza in 2000.
"I haven't done that in a while," Nieuwenhuis said. "I don't know if I've ever done it. It feels great."
The result was plenty of cushion for Wheeler, who again struggled with his control -- the rookie walked three in five innings -- but made pitches when he needed to. Wheeler's shining moment came in the fifth, after he loaded the bases with one out. Inducing Jonathan Lucroy to pop to shallow center, Wheeler proceeded to paint the bottom of the strike zone with a 90-mph slider, freezing Juan Francisco on his final pitch of the night.
"That was a big pitch," Wheeler said. "He's a guy that you really can't make a mistake on. It was a slider down in the zone. I felt comfortable throwing it right there, so it worked out perfect."
Francisco had victimized Wheeler earlier in the game with a solo home run to straightaway center, and the Brewers took advantage of Daniel Murphy's error for two other runs in the first. But it was still tangible progress for Wheeler, who had given up nine runs in his previous two starts.
"I'm definitely happy about my outing," Wheeler said. "Even though there were some low points -- falling behind, throwing 20 pitches an inning and only going five -- I battled out there as best as I could, and got a good result."
As for Davis, the first baseman walked in his first plate appearance, mustered an RBI infield hit in his second, and singled again in his third trip to the plate. Fresh off his early-morning flight from Las Vegas, Davis finished 3-for-5 with two RBIs, prompting Collins to say that, "right now ... he looks like a different hitter than he was before he left."
Davis even admitted that the infield hit -- a squibber to shortstop -- came on a pitch that he would have missed earlier in the year. In that sense, he drew the same conclusions as Wheeler, and as the team as a whole: though this night was not particularly pretty for the Mets, it was ultimately successful.
"The whole year, I've been missing pitches," Davis said. "Today was a good day, a good win. Hopefully it continues."
Anthony DiComo is a reporter for MLB.com. Follow him on Twitter @AnthonyDicomo. This story was not subject to the approval of Major League Baseball or its clubs.