McAllister making progress after bullpen session
McAllister making progress after bullpen session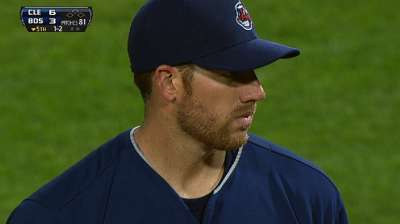 CLEVELAND -- Zach McAllister isn't snapping off breaking balls just yet, but the right-hander is making progress in his effort to overcome a sprained right middle finger that has kept him on the 15-day disabled list since June 3.
McAllister threw 60 pitches (fastballs, changeups and cutters) in a bullpen session before Friday's series opener against Detroit. He is scheduled to throw on flat ground on Saturday and see how it feels to spin a curveball, the pitch that troubled his injured finger the most. If that goes well, he might mix in some breaking balls during a simulated game on Monday at Progressive Field.
"He's doing terrific. That's the good news," said Tribe manager Terry Francona, who mentioned that a rehab start soon after the All-Star break is a "distinct possibility" for McAllister. "And we want him back yesterday. But you can't do it that way.
"It's all going to come back on what's in his best interests, and not just short term, but long term."
McAllister last piched on June 2, when he lost to Tampa Bay at home. In that outing, McAllister did not throw any curveballs, and he allowed five runs (four earned) over 4 1/3 innings. In each of his prior 12 outings, McAllister had held his opponent to three runs or fewer while lasting at least five innings.
In 11 starts this season, McAllister is 4-5 with a 3.43 ERA. Across 65 2/3 innings, the righty has issued 23 walks and 45 strikeouts. Opponents have hit .264 against McAllister, who has a WHIP of 1.37.
"It's been a process for me," McAllister said. "This is really my first stint on the DL in my career. So, it's been a learning process of not being out there. I've tried to learn how to cheer on the guys and do anything else I can to help out. It's been a grind, but I'm learning from it."
Mark Emery is an associate reporter for MLB.com. This story was not subject to the approval of Major League Baseball or its clubs.