Nunez could return to lineup before All-Star break
Nunez could return to lineup before All-Star break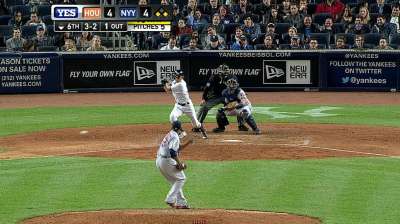 NEW YORK -- Derek Jeter and Alex Rodriguez have begun their rehab assignments after going through lengthy recoveries from injury. But they're just two of the contingent of injured players working their way back to the Yankees.
Shortstop Eduardo Nunez, outfielder Curtis Granderson and catcher Francisco Cervelli are all rehabbing from various injuries, but some are closer to a return than others.
Nunez, who is working his way back from a strained left oblique, spent a few days playing for Class A Charleston before being moved to Double-A Trenton on Thursday. He's currently hitting .231 in five rehab games.
Manager Joe Girardi wouldn't rule out Nunez returning before the end of the Yankees' current 10-game homestand.
"He's played this year, he's had a full Spring Training and he's be out on rehab, in a sense, a little bit longer," Girardi said. "He's in a much different situation than Alex, so I think that is possible."
Granderson is also progressing in his recovery from a fractured left pinkie finger suffered May 24. He had the pins removed from his hand on June 22, and he's been swinging in a pool, throwing and taking fly balls. The final step for him is to be able to swing a bat.
"By the time he starts to hit, he will have already done everything else," general manager Brian Cashman said. "Everything else is easy for him. Once he starts swinging the bat, he'll come quick."
The news is not as good for Cervelli. Working his way back from a fractured right hand suffered on April 26, the catcher suffered a stress reaction in his right elbow on Thursday and has been shut down indefinitely.
"This is a big setback in the fact that I don't know what we're going to get going forward this year," Cashman said. "Now you got to get the arm to calm down and get him, and we're starting to run out of time."
Josh Vitale is an associate reporter for MLB.com. This story was not subject to the approval of Major League Baseball or its clubs.