Toronto eyeing post-All-Star return for Cabrera
Toronto eyeing post-All-Star return for Cabrera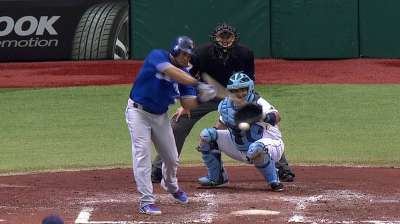 TORONTO -- Blue Jays left fielder Melky Cabrera ran for the first time Friday since being placed on the disabled list with left knee tendinitis.
Cabrera had been taking batting practice with the club, but has largely avoided stress on his legs.
"He's starting to feel better," manager John Gibbons said. "You figure [rest has] got to help a little bit."
The hope is that the minor ailments that have hampered Cabrera for most of the season will be alleviated by a little rest.
"Your legs are everything in hitting: the balance, the power, the driving," Gibbons said. "I think it's got to help somewhat."
Despite being eligible to return from the DL two days before the All-Star break, the Blue Jays may wait until after the Midsummer Classic to activate him to give him some additional time off of his legs.
However, no matter what return date the club has in mind, Cabrera will need at least a few at-bats in the Minor Leagues before returning.
"He's going to need to go get some at-bats," Gibbons said.
Evan Peaslee is an associate reporter for MLB.com. This story was not subject to the approval of Major League Baseball or its clubs.