Toronto ensuring Lawrie gets ample at-bats in rehab
Toronto ensuring Lawrie gets ample at-bats in rehab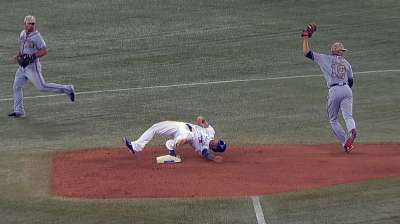 TORONTO -- Brett Lawrie played six innings with Class A Lansing on Thursday, and all reports are positive.
"Health-wise, he felt good. His ankle felt good," manager John Gibbons said. "The main thing is his ankle. Get him running around."
Although health remains the No. 1 priority with the Blue Jays and their third baseman, they also refuse to bring Lawrie up before he's ready this time.
Lawrie struggled offensively when he returned to the Blue Jays in April -- he had only taken a handful of at-bats during his rehab assignment -- and he missed most of Spring Training with an oblique issue.
"We want him playing good. .. We want to make sure he looks good, though, especially since last time," Gibbons said.
The 23-year-old managed to hit just above the Mendoza line at .209 with a .268 on-base percentage in 37 games this season. However, the Blue Jays aren't looking for Lawrie to make any mechanical changes to his swing. They just want him to get some at-bats.
For Friday, at least, those will come at Lansing, before moving to a higher level, likely Double-A New Hampshire, over the next couple of days.
Evan Peaslee is an associate reporter for MLB.com. This story was not subject to the approval of Major League Baseball or its clubs.