Johnson unable to shut door on Yankees
Johnson unable to shut door on Yankees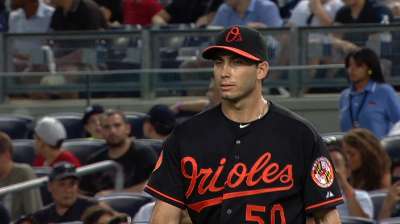 NEW YORK -- Adversity struck just when the Orioles thought it was safe to go back in the ninth inning.
Baltimore built last year's playoff bid on an impenetrable bullpen, a unit that performed impeccably and won nearly every time it held a lead. But that was last year. The Orioles' strength has become a perplexing weakness, and Friday night saw another blown save in a 3-2 walk-off loss to the Yankees.
The Orioles led from the second inning through the eighth on Friday, and closer Jim Johnson came on with a one-run lead. The right-hander made a key error on an attempted bunt, and he went on to walk in the tying run and to allow the winning run on a walk-off single by left fielder Vernon Wells.
"Those three outs are the hardest three outs of the game," said catcher Matt Wieters, who delivered all of Baltimore's offense with a two-run home run in the second inning. "We have confidence in Jim, and we know if we have a one-run lead tomorrow, we'll be happy to get him back out there."
For Johnson, an All-Star last year, it's another tough result in an enigmatic season. The 30-year-old went 51-for-54 in save opportunities last year, but he already has six blown saves in 2013. Four of those came in May, and heading into Friday, Johnson had converted 12 of 13 save chances.
And as Johnson goes, so goes the rest of the bullpen. The Orioles (48-39) were sublime in the late innings last season, when they went 75-1 when leading after eight innings. This year, they're only 40-7 in those circumstances, but manager Buck Showalter doesn't think it's a pressing concern.
"I'm concerned about the way that we swung the bats tonight," said Showalter. "There's a lot of factors that go into it. We've got some guys who can't pitch every day and some guys can. Certain things will work themselves out. Everybody will seek their level and figure it out."
The Orioles have to hope that's the case for Johnson, one of the league's most durable relievers. The former fifth-round Draft pick leads the Major Leagues in saves (29) and games finished (37) this season, but he said Friday that he hasn't been overused and that he's comfortable with his role.
"That's what I am supposed to do," he said of pitching often with the game on the line. "That's part of the job description. It doesn't really matter when you look at the number of appearances. Buck does a good job of managing the rest of the guys in the bullpen, myself included."
The Orioles found themselves using a bit of gamesmanship on Friday, when they elected twice to intentionally walk Robinson Cano in a key situation. Both times -- in the fifth and the ninth inning -- the walk loaded the bases with one out, bringing up veterans Travis Hafner and Wells.
Starting pitcher Miguel Gonzalez escaped the first jam on a fly ball and a popup, but Johnson wasn't as fortunate in the ninth. Baltimore's closer fell behind Hafner and wound up walking him to force in the tying run, and Wells fisted a single through the left side of the infield to win the game.
But if you ask Johnson, the key moment in the inning came a little earlier. David Adams started the rally with a leadoff single, and then Brett Gardner dropped down a bunt. Johnson charged it and couldn't make the play, though, and Ichiro Suzuki bunted both runners into scoring position.
"The thing that really changed [the game] was me screwing up the whole bunt. That was trying to do too many things at once instead of just taking the out," said Johnson. "Obviously the walk to Hafner -- walking in the tying run -- that's not what I'm trying to do. It's frustrating. I've been working since Day One to get where I need to get. I'm still going to keep working hard."
The Yankees (47-39) got a fine performance from starter Ivan Nova, who rallied after falling behind. Nova gave up a two-run homer to Wieters in the second inning, but he went on to retire 23 of the next 25 batters he faced en route to the first complete-game victory of his young career.
The Orioles have won five of their last six games against the Yankees and lead the season series 6-4, an achievement for a team that has lost in 26 of the previous 30 years to New York. Showalter said Friday that his team's offensive struggles really come down to the teams Baltimore has faced.
"Obviously, publicly -- and rightfully so -- you've got to tip your hat to the people we're seeing," he said. "They're pitching real well. But certainly, we face good pitching every night. That's why they're in the big leagues. We've got to figure out a way to do a little bit better job with it."
Wieters came into Friday night's game batting .204 with three home runs and eight RBIs in his previous 28 games, but he kept another trend alive. The switch-hitter now has four home runs in 26 career at-bats against Nova, but he said he doesn't really keep track of the statistics that way.
"I try not to worry about numbers," said Wieters, who is batting .227 with 11 home runs this season. "Most of the time they're not too good; I'm trying to go out and get hits when I can."
That same approach could work for Baltimore's bullpen, a group that has earned an outsized share of the team's success. Showalter was asked about the disparity between last year's relief staff and this year's, and he said that last year's success didn't really come in a vacuum.
"We have been this year at times and we will be again," said Showalter about the team's consistency in the late innings. "That's part of it. This is one of the challenges you face."
Spencer Fordin is a reporter for MLB.com. This story was not subject to the approval of Major League Baseball or its clubs.