Milone sets winning tone for A's against KC
Milone sets winning tone for A's against KC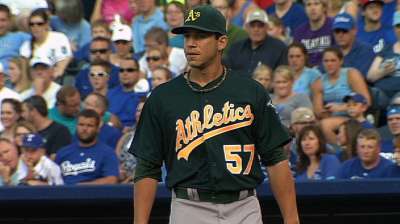 KANSAS CITY -- For 8 1/3 innings, Tommy Milone was at his best on Friday.
It was at that point the A's lefty lost what had potential to be his first career shutout. A bummer, no doubt. But not so much, in retrospect, knowing it set up history.
Oakland's 6-3 victory over the Royals doesn't look like anything special on paper. But it was.
Not only did Milone offer the A's one of the best performances of his career, despite leaving with three runs on six hits to his ledger -- "Boy, I don't know that we've seen him better," manager Bob Melvin said -- but closer Grant Balfour was called on for the final two outs that secured his 22nd save of the season.
More significantly, it was Balfour's 40th in a row dating to last year, matching the Oakland record set by Hall of Famer Dennis Eckersley in 1992.
So, when jokingly asked if his sudden ninth-inning spiral was all a ploy to get his teammate an easy save, Milone smiled.
"I mean, we can go there if you want," he said, wryly.
"That's pretty remarkable. But when you look at Grant, it's not surprising what he's able to do. That's pretty cool for him. I'm happy for him."
Milone had to be happy about his own performance, too, after making quick work of a Royals club that became the latest victim to Oakland's winning ways.
Oakland's lefty limited the same team that had plated a combined 30 runs over its last four games to three runs on six hits -- four of which came in an adventurous ninth he began at 87 pitches.
"That was terrific," Melvin said. "The pitch count was right there for him to finish the game, making his pitches all night long. It didn't even look like he broke a sweat. Gets the first guy out in the inning, and now they string four hits together and I gotta take him out.
"It would have been nice to see him get that complete-game shutout. He just didn't make his pitches there. There were some balls in the middle of the plate, and to an extent you don't want to walk anyone either, but it's too bad. He pitched great."
Said Milone: "I wish I could go back and pitch that ninth inning again. I felt good, in control the whole game. Even that ninth inning, they were just putting together good at-bats and putting the ball in play, and they were falling through. But, overall, we won, and that's all that matters."
The A's, who have won seven of their last nine, moved to a season-high 15 games over the .500 mark with the victory and improved to 4-0 this season against the Royals.
The 26-year-old Milone was looking to go the distance for just the second time in his still young career, having done so against the Dodgers on June 20, 2012, when he offered up one run on three hits. But it wasn't meant to be, despite cruising through the first eight frames. Overall, he fanned four and, for the sixth time in 18 starts this season, walked none.
The A's, meanwhile, did plenty to make a deserving winner out of Milone, who had surrendered a combined 13 runs, 21 hits and seven walks in his previous 16 innings.
Facing right-hander Wade Davis, Oakland got to work in the third, when Josh Reddick notched a one-out double and scored on Eric Sogard's ensuing base hit. The A's stretched their lead with a two-run fourth, with Reddick again proving responsible for the damage by way of an RBI triple. He, too, scored on sacrifice fly from Coco Crisp, who notched a two-run base hit in the ninth.
Reddick was applauded after the game for his all-around play, as his big offensive night was matched by an equally impressive aggressive performance on the bases and in the outfield, where he was a part of six plays during Milone's tenure on the mound.
"Yeah, I think it was one of my better games out there," Reddick said. "I was joking around with Tommy to give me an inning off, and he did, and then the next one I had two more out there.
"As long as I can catch them it's fine."
Jane Lee is a reporter for MLB.com. Read her blog, Major Lee-ague, and follow her on Twitter @JaneMLB. This story was not subject to the approval of Major League Baseball or its clubs.