All's Wells that ends well: Yanks walk off winners
All's Wells that ends well: Yanks walk off winners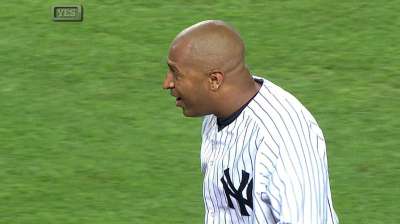 NEW YORK -- Ivan Nova sat in the Yankees' dugout in the bottom of the ninth inning with his head down. He had just finished pitching a complete-game gem -- the first of his career -- but with the Orioles leading by a run, he was in line to take the loss.
Nova never thought he was going to lose, though.
"I was positive the whole night. I knew that we were going to win at some point," Nova said. "I told a couple of the guys, 'It's impossible that I can pitch that way, the first time, and lose the game.'"
He was right. Yankees left fielder Vernon Wells delivered a bases-loaded single in the bottom of the ninth, capping off a thrilling comeback and giving New York a 3-2 walk-off win over Baltimore.
"That team over there has had our number. They've played well against us, even in the games that we've won," Wells said. "We were just able to come through late. We need to win games like that."
The late surge earned Nova a victory in what was arguably the best start of his Major League career. He needed just 102 pitches to throw his first complete game, giving up just three hits, one walk and one hit by pitch while striking out a season-high 11 batters.
Nova's only mistake came in the second inning. After the right-hander hit first baseman Chris Davis to lead off the frame, Orioles catcher Matt Wieters hit a towering fly ball to left that flew just over the head of a leaping Wells, bounced off the outfield wall and bounced into the seats for a two-run home run.
The Orioles managed just two baserunners the rest of the game.
"He gave up the one home run early then just was really, really good," manager Joe Girardi said. "You've got to give him a lot of credit."
It was the third consecutive strong outing for Nova. He allowed just one run over 6 2/3 innings in a loss to the Rays on June 23 before the bullpen allowed two inherited runners to score, and he threw 5 2/3 innings of two-run ball in relief against the Orioles on Saturday. He's recorded 28 strikeouts in his past 26 1/3 innings.
"It's an unbelievable feeling the way I've been throwing the ball lately," Nova said. "We just got to keep it going."
The Yankees scratched their first run across in the fourth inning. Wells singled with two outs, advanced to second on first baseman Lyle Overbay's walk and then scored on shortstop Luis Cruz's single to left field, narrowly beating Nate McLouth's throw home.
New York had another chance in the next frame when it loaded the bases with one out, but Orioles starter Miguel Gonzalez got designated hitter Travis Hafner to fly out to shallow center and Wells to foul out to first to get out of the jam without allowing a run.
Gonzalez allowed just one run over six innings, giving up four hits and five walks.
"That's him. He's going to bend, but not break," Orioles manager Buck Showalter said. "You have to consider yourself lucky to get through that with one run. … He was fortunate tonight."
The Yankees finally broke through against Baltimore closer Jim Johnson in the ninth inning. Third baseman David Adams laced a single to right field to lead off the frame and center fielder Brett Gardner reached when Johnson couldn't field his bunt, putting two runners on with no outs.
"Holy mackerel," Adams said. "It was kind of a line-drive bunt, so my initial reaction was to freeze. As soon as I see it down, I'm going as fast as I can. In my mind, I'm just, 'Oh my God, just get there, get there.' Thank God he fumbled the ball."
Right fielder Ichiro Suzuki bunted Adams and Gardner over, and Johnson intentionally walked second baseman Robinson Cano to bring Hafner up with the bases loaded for the second time of the night. Hafner worked a walk to tie the game, and Wells drilled a single through the left side of the infield to bring in the winning run.
"Those are fun. Anytime you can jump around, get punched a little bit after doing something good, it's a good time," Wells said. "Those are times, like when we turned the triple play, when you see the kid come out in us. That's the great part about this game. You forget that we do this for a living and just brings us back to when you're a kid."
Nova still doesn't have a set spot in the Yankees' rotation, and he only pitched Friday because scheduled starter Hiroki Kuroda is dealing with a sore left hip. But after twirling nine near flawless innings, the young right-hander looks as though he's pitched his way into another turn.
"I'm not sure exactly how we'll do it," Girardi said, "but he'll probably start again."
Josh Vitale is an associate reporter for MLB.com. This story was not subject to the approval of Major League Baseball or its clubs.