Samardzija falters and Cubs stifled by Pirates' Liriano
Samardzija falters and Cubs stifled by Pirates' Liriano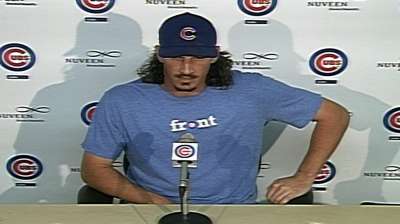 CHICAGO -- After Cubs ace Jeff Samardzija left the diamond on Friday, he went back to the clubhouse and watched video to confirm his suspicions. Everything was up.
Chicago manager Dale Sveum knew it, and more important, the Pirates saw it. Pittsburgh jumped on the 28-year-old right-hander's fastball all day in a 6-2 Pirates win in the series opener at Wrigley Field, dropping the Cubs' home record to 17-23.
"There was no fastball command at all," Sveum said of Samardzija's outing. "There were a lot of fastballs, and he couldn't get ahead, couldn't put anybody away, kept missing by a ball on the plate. He was up all day long. He didn't throw a whole lot of quality fastballs down in the strike zone."
Samardzija has dropped his last three starts against the Pirates, who hold the best record in baseball at 53-32. But nobody can blame the Cubs for having a difficult time against the Pirates, Reds and Cardinals -- teams who entered play on Friday with the three best records in the National League.
Chicago has played those three clubs at an 8-21 record while amounting a 25-22 mark against teams outside its division. For that reason, Samardzija doesn't think his team is that far away from the Pirates. He said it's little mistakes that separate the Cubs from the elite in their division.
"You can't give those guys windows of opportunity," Samardzija said. "They don't give you any cheap outs, they don't make mistakes on the basepaths and therefore you've got to be on top of your game to match their level."
The Cubs clearly were not on the top of their game on Friday. Aside from Samardzija's erratic outing that lasted six innings -- during which the right-hander gave up five runs, nine hits and five walks, including one to opposing starter Francisco Liriano -- there were mental errors in the field that prolonged his innings.
Pittsburgh capitalized on poor fielding in the third to score three runs. Center fielder Dave Sappelt took a poor angle on a fly ball by Neil Walker that ended up turning into an RBI triple. Then, after driving in a run with a single, Garrett Jones swiped second as a part of a double steal that brought Andrew McCutchen home.
The Pirates tacked on another run in the fifth when Jose Tabata beat out a close play at first with two outs and Jones on third. Tabata's ground ball drove shortstop Starlin Castro's weight to his back foot, but he fired a strong throw to an outstretched Anthony Rizzo at first only to have Tabata be called safe by first-base umpire Gary Cederstrom.
"All those kinds of plays stand out because that's one thing about baseball," Sveum said. "It's not like basketball where when you turn the ball over nobody really knew who did it. Baseball, every mistake stands out."
Liriano's mistakes were few and far between. The left-hander threw his second career complete game -- the Pirates' first of the season -- allowing two runs and just four hits while striking out seven and adding an RBI single to help his cause in the second inning.
While Samardzija couldn't hit his spots, Liriano nailed his. Cubs catcher Dioner Navarro credited Liriano for keeping his pitch count down and mixing his selection while masking the different actions with a consistent speed. The Cubs couldn't figure him out all day with the exception of one at-bat in the second.
Scott Hairston, who hadn't played in a game since June 23 before Friday, connected on a towering two-run home run that landed in the left-field bleachers to give Chicago a 2-1 lead. However, that'd be the lone blemish on Liriano, and the Pirates charged back in the third to quickly reclaim a 4-2 advantage.
The last time the Cubs faced Liriano, Sveum likened his stuff to a young CC Sabathia, a pitcher who possessed the firepower to blow a 95-96 mph fastball by hitters but relied on a devastating offspeed arsenal. Sveum reiterated that comparison after Friday's game.
"If I was to rank guys I wouldn't want to face, he's up there just because his offspeed stuff is so good," Sveum said. "He doesn't hang anything. He throws a lot of changeups and sliders, but he just never hangs it and he has so much velocity and arm speed."
Pittsburgh jumped on Samardzija from the start, much like it did the last time it faced Chicago's ace. On June 8, the Pirates tacked on four runs in the first four innings and Samardzija settled late. On Friday, Samardzija said he again made adjustments, but acknowledged they didn't come quick enough.
"I think he was up again, and we didn't chase a whole lot," Pirates manager Clint Hurdle said. "He hasn't had the same stuff we saw the first three, four times that we saw him. He's still good; he's still a beast out there, but we've been able to find our way against him the last two times."
The Cubs will have chances to find their way on Saturday and Sunday. If Chicago is to close the gap with the Pirates, it'll need to limit mistakes and emulate the best team in baseball.
"They've got the best record in the league now, they're playing good, they're hitting in the clutch and all the little things," Navarro said. "We had a couple balls hard, but we just didn't get any luck. I guess that's what happens when you're playing good."
Ethan Asofsky is an associate reporter for MLB.com. This story was not subject to the approval of Major League Baseball or its clubs.