Bats back Gio as Nats top Padres in opener
Bats back Gio as Nats top Padres in opener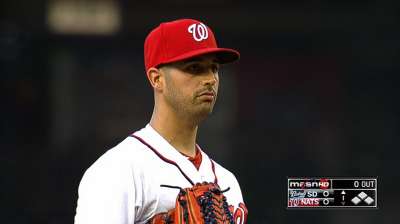 WASHINGTON -- In the first 85 games of the season, the Nationals were constantly in and out of an offensive funk. They mustered one run or fewer 23 times, but when they did score, the runs came in bunches.
Friday night's series opener against the Padres was no exception.
Washington cycled through its batting order in a five-run second inning and held on to win, 8-5, at Nationals Park. After scoring one run in two games against the Brewers, the Nationals scored eight for a second consecutive day. Wilson Ramos went 2-for-4 and drove in three runs, while Jayson Werth and Denard Span also collected multiple hits.
The Nationals have now won 10 of their past 16 games.
"I like the way the lineup is swinging the bat, really," manager Davey Johnson said. "They're good at-bats, quality at-bats. That's what I've been looking for. That takes pressure off everybody in the lineup. They feel like they can stay within themselves and not try to do too much."
For weeks, Johnson pointed to Bryce Harper's return as a possible catalyst for his struggling offense. But after coming off the disabled list on Thursday, Ramos has filled that role. He followed up his five-RBI performance on Thursday with three more on Friday.
"I feel comfortable at the plate right now," Ramos said. "Same approach tonight, same approach last night, too -- just get a good pitch to hit. [I'm] happy right now because I'm back and we won."
Ramos also helped starter Gio Gonzalez overcome a rough first inning to pick up his third consecutive win. Gonzalez had some of the worst run support in the Major Leagues earlier in the season, but the Nationals scored plenty of runs for him on Friday. He kept pace with the offense by allowing just three runs on eight hits over 6 2/3 innings with five strikeouts.
"I've never lost faith in these guys," Gonzalez said. "They've been doing it since last year. You just got to keep them in the game, and if you show them signs of life, they're going to go out there and do the job."
It was a scorching July night, and Gonzalez said that his arm felt heavy in the first couple of innings. He gave up doubles to two of the first four batters. Chase Headley's hit skipped over the fence for a ground-rule double, scoring Chris Denorfia and giving the Padres a quick 1-0 lead.
"You have to make the adjustment quick," Gonzalez said. "It was tough for all our pitchers and their pitchers. It's just one of those days you have to battle through."
Gonzalez threw 50 pitches in the first two innings before the Nationals' bats came around. Ryan Zimmerman got it started with a single to left field in the second. Werth and Ramos also singled, Anthony Rendon and Ian Desmond walked, Gonzalez was hit by a pitch, Span doubled and Harper hit a sacrifice fly.
As the inning ended, Gonzalez returned to the mound with a 5-1 lead. After inducing a double-play ball, he gave up a solo homer to Headley as the Padres started chipping away at Washington's lead.
"For three innings, I saw [Gonzalez working] a little bit faster," Ramos said. "I told him to slow down, don't try to do too much. Try to do what you can do, just throw the ball and let those guys put the ball in play."
Again, the Nationals responded. After Adam LaRoche walked and Werth singled to begin the third inning, Padres manager Bud Black pulled starter Andrew Cashner from the game after only two-plus innings. He gave up six runs on five hits with three walks.
Washington added two more runs in the fourth on a pair of ground-ball singles by Desmond and LaRoche, giving Gonzalez and the Nationals' bullpen a sizable cushion.
"[The] defense came through and offense was as wonderful as it gets," Gonzalez said. "My job was just to try to keep them in the game as much as possible."
Those runs proved pivotal in the top of the seventh. With two outs and a runner on first base, Gonzalez exited the game to a chorus of cheers, making way for reliever Craig Stammen.
Stammen threw a fastball to Denorfia, who sliced it to shallow right field for a double. Then the right-hander threw a slider to Carlos Quentin, who belted it into the left-field seats. After those two pitches, the Nationals' lead had been cut to 8-5.
Stammen worked his way out of the inning and his fellow relievers took it over from there. Tyler Clippard set down the Padres in order in the eighth, closer Rafael Soriano followed with a perfect ninth, and for one more day, the Nationals' bats showed life.
"We've been fortunate enough to swing the bat, staying hot," Gonzalez said, "and we're going to continue doing that."
Tom Schad is an associate reporter for MLB.com. Follow him on Twitter @Tom_Schad. This story was not subject to the approval of Major League Baseball or its clubs.