Cashner chased in third as losing skid hits seven
Cashner chased in third as losing skid hits seven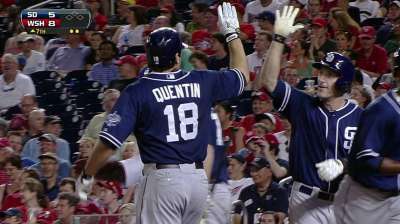 WASHINGTON -- It took all of eight pitches Friday for Padres right-hander Andrew Cashner to dispense of the Nationals in the first inning.
Cashner hardly broke a sweat, which is saying something considering the sticky conditions in D.C. -- a game-time temperature of 88 degrees with enough humidity to feel like someone tossed a hot, soggy blanket over the eastern seaboard.
The second inning was an entirely different story.
"That one inning really killed me," Cashner said.
After a breezy first inning, Cashner lost command of his fastball and missed in some critical sequences as the Nationals scored five runs in the second inning on their way to an 8-5 victory over the Padres in front of a crowd of 33,979 at Nationals Park.
The loss extended the Padres' season-long losing streak to seven games. They have also lost 11 of their last 13 and are 1-7 on a 10-game road trip that can't end quickly enough.
This is the team's longest losing skid since they dropped nine consecutive games from Aug. 24-Sept. 3, 2011.
"We have to find a way to sync the offense up with the pitching," said Padres manager Bud Black.
That hasn't happened during this funk and it certainly didn't happen Friday, as Cashner, who has proven to be dependable since moving into the starting rotation, struggled in the fateful second inning.
The Padres' offense, which produced seven runs combined in their six previous losses, showed some life, as Carlos Quentin hit a three-run home run in the seventh inning and Chase Headley had a solo home run in the third. The Padres finished with 10 hits.
"It's a good sign," said center fielder Chris Denorfia, who had three hits. "Our pitching has been keeping us in games for two weeks. I think some guys kind of woke up [offensively] tonight. We need to score more runs."
Few, if anyone, could have foreseen such an outing for Cashner, who had allowed three or fewer runs in each of his last five starts.
"He was up in the zone and couldn't command the fastball, and he didn't get the change in good spots," Black said. "The inning snowballed on him."
After breezing through the first inning, he ran into big trouble in the second, a steady procession of baserunners at every turn. Hit, hit, walk, hit, hit by pitch -- against his counterpart, Gio Gonzalez, no less -- followed by a another hit, walk and sacrifice fly.
"I like the way the lineup is swinging the bat, really," said Nationals manager Davey Johnson. " … They're good at-bats, quality at-bats. That's what I've been looking for. That takes pressure off everybody in the lineup. They feel like they can stay within themselves and not try to do too much."
The big blows of the inning were a two-run single to No. 8 hitter Wilson Ramos and later a two-run double to leadoff hitter Denard Span.
"They had some good at-bats against him," Black added.
When the dust settled, and only when the Nationals sent 10 batters to the plate in the inning, Cashner had allowed five runs. When he opened the second inning by walking Adam LaRoche and then allowed a single to Jayson Werth, Black gave Cashner the hook.
"I made some good pitches and some bad pitches … I felt like I couldn't catch a break," Cashner said. " … The biggest thing was I didn't locate my fastball down and away. That's been a big pitch for me."
The Nationals got 6 2/3 innings from Gonzalez, who was teetering early, but pitched into the seventh inning. Quentin's home run came off reliever Craig Stammen with two outs.
The Padres, who earlier in the day optioned long reliever Burch Smith to Triple-A Tucson, could look to add a long reliever before the series ends on Sunday.
Tim Stauffer, who followed Cashner, threw 52 pitches in three innings. There's no chance that he will be available Saturday and possibly not on Sunday, either. Tyson Ross threw 42 pitches against the Red Sox at Fenway Park on Thursday.
This game marked the 16th time this season a Padres starting pitcher has pitched four or fewer innings. That happened exactly 16 times last season.
But at this point, the Padres would simply settle for a victory, no matter how many innings their starting pitcher threw, no matter how many runs they scored.
"We'll figure it out," Cashner said. "We've got to pitch, No. 1, and some guys started swinging the bat tonight. But, overall, we'll come out of this soon enough."
Corey Brock is a reporter for MLB.com. Keep track of @FollowThePadres on Twitter. This story was not subject to the approval of Major League Baseball or its clubs.