Miscues costly as Braves rally, but fall to Phillies
Miscues costly as Braves rally, but fall to Phillies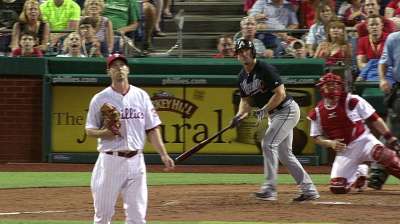 PHILADELPHIA -- What had the makings to be another of those miserable nights the Braves have experienced against Cliff Lee instead became one in which a furious seventh-inning rally nearly led to what would have been this season's most impressive comeback victory.
Coming off consecutive losses against the Marlins, the Braves extended their recent frustrations with Friday night's 5-4 loss to the Phillies at Citizens Bank Park. The four runs scored against Lee in the seventh inning were not enough to overcome the misfortunes Paul Maholm experienced courtesy of two costly defensive miscues.
"It was a weird game," Braves second baseman Dan Uggla said. "We didn't really play real well. Not taking anything away from them, but a couple plays didn't really go our way. It could have been a different ballgame."
Maholm surrendered two home runs in a game for the first time this season and ended up allowing five runs (four earned) in six innings. The unearned run scored on Freddie Freeman's first-inning throwing error and the decisive sixth-inning run scored when Brian McCann dropped the ball after tagging Delmon Young in front of the plate. Young fueled the sixth with a one-out single. When a diving B.J. Upton barely missed Humberto Quintero's double in right-center field, Young lumbered around the bases and found fortune when McCann was not able to secure the ball after home-plate umpire Angel Hernandez was ready to call Young out.
"I jumped up and caught it," McCann said. "I guess it snow-coned more than I wanted it to. When he slid in, it kicked out."
After not producing more than one hit in any of the first six innings, the Braves made things quite interesting in their four-run seventh, which began with Freeman getting hit by a pitch. Uggla supplied most of the damage with the three-run home run he hit to center before Lee had recorded the inning's first out.
"Cliff pretty much made one mistake," Uggla said. "He battled like he always does. He gets ahead. It looked like he was going to go eight or nine innings."
McCann further added to the seventh-inning production with a one-out double that helped put him in position to score on Andrelton Simmons' sacrifice fly. Justin Upton ended the threat by stranding a pair of runners with an inning-ending strikeout against reliever J.C. Ramirez.
The four earned runs surrendered by Lee in the seventh matched the total he had surrendered in his previous 52 innings against the Braves, dating back to July 9, 2011.
"When Cliff Lee is on his game, you weather the storm," McCann said. "We were able to score four runs against Cliff Lee. You take that as a positive, I guess."
The Braves felt Lee gained some assistance from Hernandez, who ejected manager Fredi Gonzalez and catcher Gerald Laird during a heated argument that followed a controversial third strike called against Laird in the third. But the frustration began when Simmons began the game by looking a called third strike that Quintero caught and immediately threw back to Lee. Had he felt it was a strike, Quintero would have thrown the ball to third baseman Michael Young.
"Its not a bad thing when the opposing team is arguing about the strike zone," Lee said. "That means they think they are balls and the umpires are calling them strikes. Its hard to find anything negative about that when you are the pitcher."
Maholm was staring at potential disaster when Jimmy Rollins' single put runners at first and second with one out in the first. But the only run the Phillies produced from this threat came when Freeman fielded Ryan Howard's sharp grounder and then made an errant throw to second base while attempting to start what likely would have been an inning-ending double play.
The Phillies gave Lee some more breathing room when Quintero hit a two-run home run that hit off a Braves fan who was standing above the right-field wall. The ball bounced into play, but after a quick replay review, umpires ruled the ball would have gone into the seats without interference.
"The hands are above the rail when he touches it and you can clearly see there is about this much space," crew chief Dana DeMuth said with his hands separated by nearly three feet. "The ball is clearly above the rail and it's a home run."
There was no need for a review when Howard drilled a no-doubt solo homer to center field with two outs in the third. Maholm has allowed eight home runs in his past eight starts. He surrendered a total of four in his first 10 starts.
"I made some mistakes and they hit them hard," Maholm said. "There were a few plays we could have taken care of, but it's one of those days where you battle and see how long you can go."
Mark Bowman is a reporter for MLB.com. This story was not subject to the approval of Major League Baseball or its clubs.