Sveum believes Wood should be an All-Star
Sveum believes Wood should be an All-Star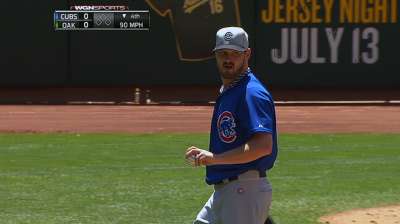 CHICAGO -- With Saturday evening's All-Star roster announcement looming, Cubs manager Dale Sveum said he believes left-handed starter Travis Wood deserves to be included on the National League team.
The All-Stars will be unveiled at 5:30 p.m. CT on Saturday on the 2013 MLB All-Star Game Selection Show presented by Taco Bell, televised nationally on FOX.
Wood threw six shutout innings on Thursday to lower his ERA to 2.69 through 17 starts this season. He's thrown a quality start in all but one outing -- a May 25 start in Cincinnati when the lefty allowed five runs over 5 2/3 innings. While Wood hasn't received a winning decision since May 30, his numbers have remained among the top in the NL. He posted a 3.06 ERA during five starts in June and issued just eight walks over the month.
"He's been our All-Star," Sveum said. "He's been the most consistent. He hasn't had a bad outing, knock on wood. It's hard to go out there for 16, 17 outings or whatever it's been and not have a hiccup along the way. He's kept us in every ballgame."
Sveum credited pitching coach Chris Bosio and bullpen coach Lester Strode for helping Wood improve into one of the game's most dominant pitchers this season. He said through coaching, Wood has learned how to pitch to his arm side, and he has studied Bosio's scouting reports to make him more prepared before starts.
"They all have a lot to do with it," Sveum said. "The biggest thing is the adjustments. He's the one guy that's made adjustments, and it's helping him tremendously."
Ethan Asofsky is an associate reporter for MLB.com. This story was not subject to the approval of Major League Baseball or its clubs.