Rays' big bats boost Hellickson to fourth straight win
Rays' big bats boost Hellickson to fourth straight win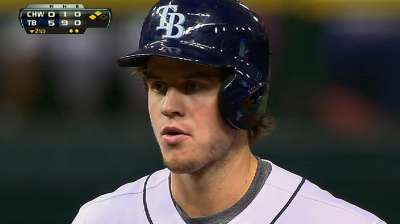 ST. PETERSBURG -- Back-to-back homers, plenty of hits, and a stellar start by Jeremy Hellickson. Yes, you could say the cosmic tumblers clicked nicely into place for the Rays on Friday night.
The culmination of everything good brought an 8-3 win over the White Sox at Tropicana Field, giving the Rays six wins in their last seven games as the team moved to 47-40 on the season.
Everything good began with Hellickson.
Riding a three-game winning streak, Hellickson set the tone by giving the Rays his fifth quality start in his last six games, allowing one run on six hits and no walks while striking out nine in seven innings. Hellickson notched his eighth win of the season, claiming victory for the sixth time in his last seven decisions.
"Very efficient and located well," said Rays manager Joe Maddon, assessing Hellickson's outing. "Ball down, keep talking about that, but it's that simple for him. He kept the ball down, and he was pitching with more confidence. Really a lot more of attacking the hitter. Fastball, changeup primarily. Started mixing his curveball in about the fourth inning."
Hellickson made a clarification regarding Maddon's evaluation.
"I don't think it's confidence in myself, it's confidence in throwing a fastball down and away 2-1," Hellickson said. "Earlier in the year, I would have bounced a changeup. I just have a lot of confidence in my fastball right now."
Earlier in the season, the Rays right-hander had a chronic problem with the big inning, and many times those big innings came after his offense had staked him to a big lead. Such an inning never transpired Friday night after the Rays built a 5-0 lead after two innings.
"[Pitching with a lead] doesn't change my mindset too much," Hellickson said. "It's really nice to pitch with a 5-0 lead in the third inning, but I really don't change much. My approach from the first pitch is to get ahead and be aggressive. You have to do more of that once you're ahead to make them earn their way on."
Rays hitters got busy early Friday night, enjoying a productive evening that saw the team collect 14 hits, with every starter getting at least one hit. In the last five games, the Rays have scored 36 runs on 60 hits.
Friday night, they forced White Sox starter Dylan Axelrod out of the game in the bottom of the second inning, when they exploded for five runs on seven hits. Jose Molina ignited the rally with a two-run homer, and Kelly Johnson followed with a solo shot.
Singles from Desmond Jennings, Evan Longoria and James Loney were followed by a Wil Myers double before White Sox manager Robin Ventura handed the ball to reliever Ramon Troncoso. Troncoso got Luke Scott to ground out to end the inning.
"It's just one of those [games]," Ventura said. "They just jumped on [Axelrod]. They were swinging the bats, and I don't think he was locating too good."
Axlerod's outing was the shortest by a Chicago starter since Jose Quintana allowed seven runs over 1 1/3 innings on Sept. 4, 2012.
"I threw some balls up," Axelrod said. "They're hot right now. … I was throwing strikes; just balls up a little bit, maybe too much of the plate at times. I didn't feel like I was throwing horrible pitches, but obviously not good enough."
Tampa Bay added two more in the bottom of the fourth when Jennings led off with another single. Troncoso then put Matt Joyce and Longoria aboard with a pair of walks. Myers' sacrifice fly to center field scored Jennings, while a single from Scott brought in Joyce.
"As a team, we are doing a really good job of getting good at-bats," Molina said. "And that's huge. To make sure that the team is competing the way that we are right now. You know, good at-bats get hits, win games and all of that."
The only blight on the evening came in the ninth when left-hander Cesar Ramos gave up two runs.
"I thought we played well tonight up until the last inning, when it got a little sloppy," Maddon said. "Overall, we've been playing really well. The last homestand: Two out of three vs. Toronto, two out of three vs. Detroit ... three out of four in Houston. Played well tonight, so if we just keep playing that style of baseball, we're going to win a lot of games."
Bill Chastain is a reporter for MLB.com. This story was not subject to the approval of Major League Baseball or its clubs.