White Sox unable to recover from Axelrod's outing
White Sox unable to recover from Axelrod's outing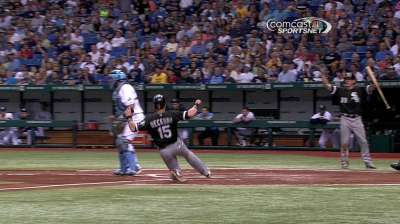 ST. PETERSBURG -- There was some positive White Sox news coming from an otherwise dismal 8-3 loss to the Rays on Friday night at Tropicana Field.
While the team as a whole didn't play well in the opener of this nine-game, first-half-ending road trip with a Cubs makeup game at home tacked on Monday, the White Sox youthful newcomers showed well in their respective debuts. Josh Phegley, who was called up from Triple-A Charlotte prior to Friday's setback and basically will take over as starting catcher, knocked out his first Major League hit and picked up his first two RBIs.
Simon Castro, a right-hander who has started most of his Minor League career but whom the White Sox view as a reliever, threw three scoreless innings of relief and fanned four. Of course, those three innings came after Dylan Axelrod (3-5) was touched up for five runs on nine hits over 1 2/3 innings and the game was all but out of reach.
"If there is a silver lining, you get those guys in there," said White Sox manager Robin Ventura, whose team slipped to 15-29 on the road and 34-49 overall. "Castro, you see what he can do, and he gets through it. It was one of those where you get beat up."
"It was exciting and stressful and nerve-wracking all at the same time," said Phegley, who had two strikeouts to go with his run-scoring single and ninth-inning sacrifice fly. "I wish it would have went a little better for us, but it was an experience."
After making five starts in June and emerging with five no-decisions, there was little doubt that Axelrod was going to end up on the wrong end of the ledger Friday. All five of the runs scored against Axelrod came in the second, beginning with back-to-back homers from Jose Molina and Kelly Johnson, hitting eighth and ninth. Wil Myers and Yunel Escobar added run-scoring singles.
Location was the issue for Axelrod, who threw too many hittable strikes.
"Yeah, I guess I threw some balls up, and they are hot right now," Axelrod said. "So, just try to turn the page and think about my next start. Maybe too much of the plate at times. I didn't feel like I was throwing horrible pitches, but it was obviously not good enough."
"As a team, we're doing a really good job of getting better at-bats," Molina said. "Good at-bats become good hits and win games and all that."
The Rays (47-40) produced two more runs in the fourth off Ramon Troncoso and one in the fifth against David Purcey. Jeremy Hellickson (8-3) limited the White Sox (34-49) to one run over seven innings, striking out nine without a walk.
And with those unsightly numbers processed, the White Sox dropped a season-high 12 games behind the American League Central-leading Tigers. The division race has moved a few miles off the main pace, with these rookies getting a serious look as general manager Rick Hahn and his staff begin what figures to at least be a modified rebuilding process.
Phegley's opposite-field single between first baseman James Loney and second baseman Johnson brought home Gordon Beckham in the fifth. He connected on a fastball from Hellickson, after struggling in his first at-bat with the changeup.
"As soon as I hit it, I could hear a reaction from him, so I think if he'd have stuck with the changeup, he'd be all right," said a smiling Phegley, the 15th-ranked prospect in the White Sox organization by MLB.com. "But I got a good pitch to hit and put it in play and it got through.
"Kind of a little weight lifted [once I reached first]. He was really getting me with that changeup. Pretty good pitch for him. But just to kind of put the bat on the ball and see it go through there, we had a lot of hits, but mine just happened to come with a guy on second, so I kind of lucked out."
Castro yielded singles to Luke Scott and Escobar to open the sixth, but those were the only two hits the right-hander allowed. He fanned four and walked two, as the 14th-rated White Sox prospect according to MLB.com excelled in long relief.
"After the first pitch, I was just trying to throw strikes and keep it going," Castro said. "Keep the lead there and give the team a chance to come back. I've been working hard for this and I just feel blessed that I finally got this chance. I'm just enjoying it."
About the only other moment of note for the White Sox came in the bottom of the seventh, when Beckham moved from second to shortstop to tackle his defensive position from college for the first time during his Major League career. Beckham's move meant Alexei Ramirez missed an inning for the first time this season, after playing 737 1/3 consecutive.
More lineup rearrangements, featuring Phegley, Brent Morel and pitchers such as Castro out of the bullpen, will be on the White Sox horizon. While they had hoped these young players could supplement a contending team as the season progressed, now they are the primary story to watch for this underachieving squad.
"There's still a lot of season left," said Phegley, maintaining a team focus. "I've seen better runs I think in the past. I don't think I'm going to take it lightly. We're all down here, [12] games out. But I think every day you just come out and try to do your best."
Scott Merkin is a reporter for MLB.com. Read his blog, Merk's Works, and follow him on Twitter @scottmerkin. This story was not subject to the approval of Major League Baseball or its clubs.