Braves can't escape as Kimbrel allows winner
Braves can't escape as Kimbrel allows winner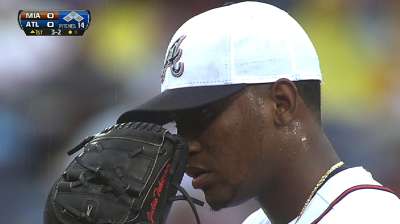 ATLANTA -- The game-changing extra-base hit that had eluded the Braves since the first inning of Thursday night's game appeared to have finally arrived when Dan Uggla powered a 1-1 sinker to the opposite-field gap in the bottom of the ninth. Instead, Giancarlo Stanton made a diving grab to retire Uggla and put a stop to the Braves' designs on some late-inning fireworks.
Stanton's highlight-reel play at the expense of his former teammate helped preserve the lead Miami edged out against Atlanta closer Craig Kimbrel, as the Braves dropped their second straight game -- a 4-3 series-ending loss to the Marlins -- after winning the first four of the homestand.
"I was surprised he went and got it, because off the bat, it had them split perfect," Uggla said of right fielder Stanton and center fielder Marcell Ozuna. "It must have had a little bit of fade, and it just hung up there enough for him to run it down, so he made a good play."
The Braves' bullpen flirted with disaster one too many times when Marlins pinch-hitter Donovan Solano's two-out RBI single off Kimbrel gave Miami its first lead of the game. Then the Braves could not capitalize on Freddie Freeman's leadoff walk in the ninth, with Stanton's standout play in the gap neutralizing the most threatening contact a Braves hitter had made in nearly three hours.
"In watching Uggla all day, I didn't think he was going to try to flick it over first base," Stanton said. "I figured he would either try to get into one or nothing. So I was conscious about the gap already. The gap is more important in that situation anyway. If he hits it into the gap, he can score."
Kimbrel alternated walks of Ed Lucas and Logan Morrison with strikeouts of Stanton and Ozuna to bring Solano up with two outs, and Solano fell behind 0-2 before reaching out to poke a slider into right field to plate Lucas.
"It wasn't down as much as I would've liked to," Kimbrel said. "That's one of those pitches where you throw it, you kind of want to throw it in the dirt. You don't want to throw it where he can put the bat on the ball, and he was able to do it."
Kimbrel took his second loss of the year and surrendered his sixth earned run, just one fewer than he gave up in 63 appearances last year. He had worked 17 scoreless innings since a blown save on May 7.
Both offenses could not scratch out enough runs to put the game away early, but caused enough trouble to chase the two starting pitchers after just five innings. After a three-run outburst in the first keyed by Freeman's two-run single, the Braves could muster only one hit in their next 17 at-bats. Meanwhile, the Marlins stranded 12 baserunners on the night and struggled to break through against an Atlanta bullpen that worked around its own issues.
Making his Marlins debut after spending the first three months of the season recovering from right shoulder inflammation, Miami starter Henderson Alvarez bounced back after a shaky first inning to take the air out of the Atlanta offense and allow his teammates the chance to reel in an early 3-0 Braves lead.
"After the first inning, he was throwing strikes and we weren't taking advantage of it," Uggla said. "He was making pretty good pitches, sinker was working pretty good tonight, and he kept us off balance after that first inning."
Atlanta starter Julio Teheran was able to pick up where he left off in last Friday's 10-strikeout performance, fanning the first four batters he faced, but the Marlins were able to battle into lengthy at-bats, and Teheran exited after five innings and 104 pitches, the right-hander's third-highest pitch count of 2013.
"They were swinging, and it was always a foul ball," Teheran said. "At the end, I was feeling like I wasn't commanding my breaking ball, so they were just sitting on my fastball and my two-seam."
Ozuna sent Teheran's first mistake of the night, a hanging curveball on a 2-2 count, deep to left for a solo home run that cut the Braves' lead to 3-1 in the second inning. The Marlins tacked on a run in the third on Lucas' RBI groundout and made Teheran pay for a leadoff double in the fourth by Morrison, who came around later in the frame for the game-tying run.
With Teheran out after five, Braves relievers David Carpenter and Luis Avilan put themselves into jams in the sixth and seventh innings, respectively, emerging unscathed each time. Jordan Walden pitched around a one-out walk in the eighth, but Kimbrel was not so fortunate to escape his command issues.
"Even us, we look at him as kind of a robot coming in," Uggla said of Kimbrel. "We assume that it's almost impossible for him to give up a run, but he's still human, and he still made a good pitch right there. Donovan just stayed through it, stayed with it and found a hole. It's going to happen sometimes."
Eric Single is an associate reporter for MLB.com. This story was not subject to the approval of Major League Baseball or its clubs.