All-Star-worthy Iwakuma slips up to drop finale
All-Star-worthy Iwakuma slips up to drop finale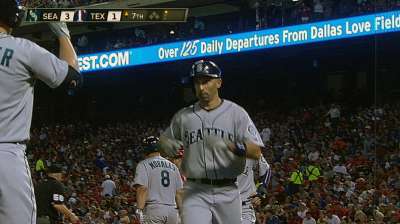 ARLINGTON -- Mariners right-hander Hisashi Iwakuma, making his last start before All-Star teams are selected, saw a strong outing derailed in the seventh inning Thursday as Texas rallied for a 5-4 victory to avoid Seattle's first sweep at Rangers Ballpark in 12 years.
Iwakuma was sailing with a 3-1 lead until the Rangers knocked him out with three runs in the seventh and added on against the Mariners' bullpen.
"I spent a long time in the dugout in that inning before going out," Iwakuma said after the Mariners sent eight batters to the plate in the top of the seventh, scoring twice to take the lead. "I was being extra careful to the leadoff guy, which got me going in the wrong direction. I wasn't able to get back to that same rhythm. I need to make that kind of adjustment."
That leadoff guy was third baseman Adrian Beltre, who hit his second home run of the game to spark the Rangers' four-run rally.
"The last couple days, we haven't been able to get the big hit," Beltre said. "That's what you're looking for, especially in the middle of the lineup. Even though it was late, we were able to attack their starting pitcher."
Seattle had plenty of chances to do damage of its own, but other than Raul Ibanez's two-run home run in the seventh and RBI single in the eighth, the Mariners wasted scoring opportunities time after time.
Seattle racked up 14 hits, but went 1-for-12 with runners in scoring position and stranded 13 men on base.
"That's the difference in the game right there," said manager Eric Wedge, whose team is hitting .226 with runners in scoring position.
Iwakuma, in his second season in the Majors, saw his American League-leading ERA climb to 2.60 and his record fell to 7-4. He's now allowed four earned runs in four straight games, going 0-3 with a 5.76 ERA in those starts.
Iwakuma has still made a strong case to be included on the AL All-Star team along with teammate Felix Hernandez when rosters are announced Saturday in the 2013 MLB All-Star Game Selection Show presented by Taco Bell, televised nationally at 3:30 p.m. PT on FOX. He also ranks among league leaders in WHIP, opponent's batting average and strikeouts-to-walk ratio.
Ibanez continued an impressive first half of his own, with his two-run blast in the seventh breaking a 1-1 tie. The 41-year-old has hit six home runs in his last nine games, and his 21 on the season puts him fifth in the AL and ties him with Dave Winfield for the fifth-most homers in a full season by a player 41 or older.
Ibanez worked the count from 0-2 to 2-2 against lefty Neal Cotts before getting the pitch he wanted and driving it 403 feet to right.
"He threw a fastball up, which he struck me out on [Wednesday]," Ibanez said. "I was just trying to not to do too much, and I was able to get the fat part of the bat and get it in the air to right field."
It was the fifth home run of Ibanez's career on the Fourth of July, but he's been hitting on all days recently. The 18-year veteran went 4-for-5 with three RBIs, raising his batting average to .257 and pushing him into the team lead with 49 RBIs. It was his first four-hit game since 2010, when he was with the Phillies.
"He's having a great year," said Wedge. "The clutch hits, the singles, against lefties and righties, the big home runs, he's been special this year."
Iwakuma dominated the Rangers for most of the night, with the exception of Beltre, who smashed solo home runs in the second and seventh innings.
After allowing just 10 home runs in his first 15 starts, Iwakuma has surrendered seven in his last three outings, but he allowed just three other hits in his six-plus innings.
"He was good," Wedge said. "He just got up there that last inning. He was motoring right along with 70-some pitches going into that seventh inning. He gave up the home run and then the hit and walk. With a lefty coming up, it looked like he'd lost it quick there and we had to go to the bullpen."
Reliever Charlie Furbush allowed both inherited runners to score on a single and sacrifice fly, then got a potential double-play grounder from Leonys Martin with one out. But second baseman Nick Franklin saw the ball fly out of his glove as he tried tagging Mitch Moreland running to second and both runners were safe.
Ian Kinsler then singled in the Rangers' fourth run of the inning off Danny Farquhar, a run that stood up after Ibanez closed the gap with his RBI single in the eighth.
"He did the right thing, he just didn't hold onto the ball," Wedge said of Franklin's play, his sixth error of the season. "The guy was right there. You just tag him, but you've got to secure the baseball. He just dropped it. That was obviously a big play, but there were multiple big plays.
"The difference again, not that we weren't good offensively tonight, but you just can't leave that many runners on in a one-run ballgame and expect to win."
Veteran backup catcher Henry Blanco stranded eight runners in an 0-for-4 night, hitting into a double play in the second with the bases loaded and also flying out with them loaded to end the seventh.
Kyle Seager went 3-for-5 with a double to finish the series 8-for-14. Justin Smoak was 6-for-13 in the series after a 2-for-5 night with a double, as well.
Greg Johns is a reporter for MLB.com. Follow him on Twitter @GregJohnsMLB as well as his Mariners Musings blog. This story was not subject to the approval of Major League Baseball or its clubs.