Fourth offers Kohn time to reflect on family's legacy
Fourth offers Kohn time to reflect on family's legacy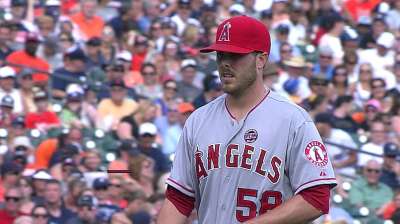 ANAHEIM -- When Michael Kohn tweeted the lyrics to "Proud To Be an American" on Thursday morning, he became one of millions to tweet something patriotic on the Fourth of July.
Kohn, like many Americans, has a special place in his heart for Independence Day, thanks to a family history richly rooted in the armed forces and government service.
Both of Kohn's grandfathers served the country -- one in the Army and one in the Navy. His paternal grandfather was a three-star admiral in the Navy who served 38 years, a distinguished aviator who flew 310 missions during the war in Vietnam.
I'm proud to be an American, where at least I know I'm free. And I won't forget the men who died, who gave that right to me. #happy4th

- Michael Kohn (@MichaelKohn58) July 4, 2013
"I think about him every day, but especially on Fourth of July and what he gave up for the country," Kohn said of his grandfather that passed away in 2009.
While Kohn's grandfathers served the country via the military, several other family members did so via the government.
Kohn's grandfather's brother, Bob Sheheen, was a member of South Carolina's House of Representatives from 1977-2000.
And his second cousin, Vincent Sheheen, is making second run at the South Carolina governor's office next year.
For a family that has so many political and military ties, it is only natural to have a large celebration on Independence Day.
"Everybody goes up to the lake, on my mom's side, and we do a fish fry," Kohn said. "With extended family, it's like 50 people. We do a fish fry, shoot fireworks and all the kids swim. I used to do that when I was younger. Obviously I can't now, but it's a great holiday to thank those guys that allow us to play baseball everyday for a living."
Although Kohn has to look no further than his family tree to find people to thank, he certainly has not forgotten about everyone else in the armed forces.
"It's a special day to me to honor not only my grandfathers, but the people that are serving right now for us," Kohn said.
William Boor is an associate reporter for MLB.com. This story was not subject to the approval of Major League Baseball or its clubs.