Rox not fazed by rare misstep from Brothers
Rox not fazed by rare misstep from Brothers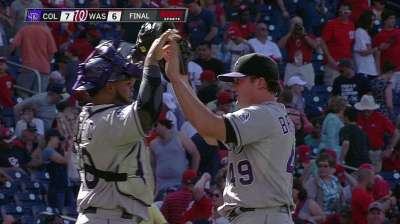 DENVER -- Rex Brothers has been so dominant this year that any slipup comes as a relative shock.
So it was a surprise when Brothers gave up home runs in the ninth on Wednesday to Dodgers sluggers Hanley Ramirez and Matt Kemp. The only outing this year in which he allowed more than one earned run arrived just five days after Brothers snapped a streak of 30 straight scoreless innings dating to early April.
Ramirez's homer came on a pitch down in the zone, one that would not usually clear the wall in the deepest part of the park. Kemp's was more of a mistake pitch, Brothers said, coming on a fastball that hung over the plate.
But Brothers, whose ERA rose to 1.02 after dipping as low as a remarkable 0.27 at the end of the streak, is not worried. Such is the life of a reliever.
"I think that's the name of the game with a reliever, is you have to almost sometimes when things go bad create confidence from somewhere," Brothers said. " … It helps to have some success this year so far.
"Come back tomorrow and just create that mentality again, 'Hey, I'm going to get the job done today.'"
Rockies manager Walt Weiss, who also used Brothers as his closer when Rafael Betancourt landed on the disabled list, said he won't hesitate to put the powerful lefty back on the mound.
"I love having Rex in the game," Weiss said. "You're not going to dominate for six months the way he has in this league. He's been almost untouchable."
Ian McCue is an associate reporter for MLB.com. This story was not subject to the approval of Major League Baseball or its clubs.