Returning before break still possibility for Tulo
Returning before break still possibility for Tulo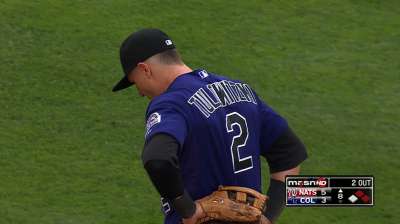 DENVER -- Troy Tulowitzki strolled through the clubhouse Thursday afternoon with a bat in each hand.
It was a welcome sign for Walt Weiss and Co., as the Rockies shortstop took batting practice before Thursday's series finale against the Dodgers for the first time since he broke a right rib three weeks ago. Tulowitzki said he has not ruled out returning before the July 16 All-Star Game, but emphasized that he will not rush the recovery process.
"There could be three or four days where I feel great and say, 'Hey, let's go on the rehab assignment,'" Tulowitzki said. "It could be another week or two where, 'Hey, now this thing feels good,' after the [All-Star] break. I just don't know."
Weiss said he would not hold Tulowitzki back if he does feel ready before the All-Star break. The skipper looked on as his star slugger took a few swings and agreed everything went smoothly in the latest step in the rehab process.
"I'm all for that, if he's good to go before the break," Weiss said. "We're not going to hold our breath to that, but if that were the case, that would be great."
Despite taking what he called "very easy swings" on the field, Tulowitzki still smoked a few balls over the left-field wall. It was just a taste of competitive baseball but enough for him showed more than just a hint of excitement to have a bat back in his hands.
"I came away very happy about it -- it's not like I had to stop and say, 'It's too much pain,'" he said. " … Now it's all about getting treatment and taking steps in the right direction."
Weiss said Tulowitki will join them on an upcoming 10-game road trip, which includes series against three National League West teams. He will be re-evaluated each day on the trip, his workouts and activity increased accordingly.
Tulowitki, who injured the rib diving for a ground ball, has been fielding grounders before the game for several days. He said he has fieldd without discomfort but did feel tightness when swinging.
"Defensively, I'm fine," said Tulowitzki, who was in the midst of an MVP-type season with a .347 average, 16 homers and 51 RBIs through 61 games. "Right now I can throw the ball and field the ball, it's just all in the swing. I'll know. Once the ball has a little extra carry and there's less pain, it should be ready."
Despite missing the last three weeks, Tulowitzki still held a comfortable lead in the All-Star voting among shortstops and said he probably will attend the All-Star Game at New York's Citi Field if he wins the fan vote, even he is not fit to play.
Ian McCue is an associate reporter for MLB.com. This story was not subject to the approval of Major League Baseball or its clubs.