Bats pick up Chacin as Rockies claim finale
Bats pick up Chacin as Rockies claim finale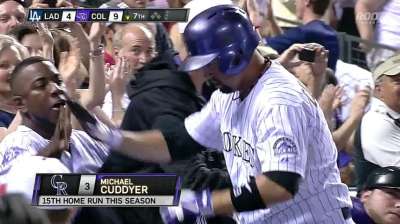 DENVER -- In a series where nothing came easy for the Rockies, it was fitting that the Dodgers, down five runs, flashed comeback potential with two hits to lead off the ninth. But closer Rafael Betancourt survived, Tyler Colvin making a backhanded grab as he leaped onto the center-field warning track for the final out to secure the Rockies' 9-5 win at Coors Field Thursday night.
With that catch came a much needed dash of confidence for Colorado, which was on the verge of being swept at home by the Dodgers with a 10-game intra-division road trip on the horizon. The victory keeps the Rockies 2 1/2 games back of the D-backs in the division, and they will get a chance to jump into the driver's seat with a three-game series in Arizona that starts Friday.
The Rockies' offense was freshly defrosted, having scored eight runs in a loss Wednesday night after Clayton Kershaw blanked them in the series opener Tuesday. Starter Jhoulys Chacin (8-3) opened the Rockies' four-run third inning by dropping a bloop single into shallow right, and his teammates kept the damage coming with offensive fireworks fit for the Fourth of July in front of a sellout crowd of 48,794.
"The team, they really hit it good today, they picked me up," Chacin said. "It's a good way to go to the road and hopefully we keep pitching good and we keep hitting like we did today.
"So I hope this is the start of a good road trip."
Josh Rutledge plated Chacin with a single through the infield dirt, and Michael Cuddyer opened it up with a double over the center fielder's head to give the Rockies a 4-2 lead. Carlos Gonzalez, who reached on a fielder's choice, nearly caught up to Rutledge as they rounded third, both sliding home safely on an errant throw form shortstop Hanley Ramirez.
"It's frustrating, as a starter, to put your team in a hole like that," Dodgers left-hander Chris Capuano said. "If I make a pitch to Cuddyer, it could have been a different game."
Gonzalez left in the sixth with an upper back strain, but said it's an injury he's dealt with before and expects to play Friday.
Wilin Rosario's fly ball to center scored Cuddyer, and finally the third-inning show was over. Cuddyer, whose 27-game hitting streak ended Tuesday, has now reached safely in 61 of the 65 games he's played.
Chacin looked shaky early, the Dodgers striking first when Matt Kemp belted a two-run homer over the center-field wall in the second. As Yasiel Puig watched Kemp's second home run in as many nights sail into the seats, he walked down the dugout steps with both arms raised. That excitement disappeared from the Los Angeles dugout quickly, as the Dodgers did not score again until the sixth.
Chacin was in even deeper trouble the next inning, loading the bases with just one out. After Kemp smacked a single into left field, Adrian Gonzalez started to round third but was held up with the strong-armed Gonzalez manning left. An infield flyout and a strikeout with the bases loaded allowed Chacin to escape without another run to his name.
"Really after the third inning, that's when I started to settle down and make my pitches," Chacin said. "The first three innings I was up in the zone, I wasn't getting ahead of the count. That's why I [allowed] a lot of baserunners."
Chacin was not as dominant as he has been in two straight scoreless starts, but worked his way out of enough jams to not waste a productive night from the batters behind him. The Dodgers' seven hits in the first three innings did, however, mean extra pitches and a shorter stay on the mound.
Chacin needed 101 pitches to make it through 5 2/3 innings, allowing four earned runs, nine hits and three walks. Not spectacular, but good enough for his fifth straight win.
"He came out and gave us a start that was good enough for us to win," Rutledge said.
Tossing 15 scoreless innings coming into Thursday night, he extended the streak to a career-high 16 before the Dodgers scored.
Already walking a tight rope, Capuano (2-6) was chased as the Rockies added three more runs in the fifth. Rutledge led off with double, and RBI singles from Rosario, Todd Helton and Tyler Colvin handed the Rockies a six-run lead.
Capuano left after 4 1/3 innings, allowing five earned runs, seven hits and striking out three.
Los Angeles rallied with a two-run sixth, Puig smashing a broken-bat RBI single to end Chacin's night. Reliever Josh Outman then served up a double to Gonzalez off the left-field wall, scoring the speedy Puig.
Gonzalez opened the ninth with a solo blast into center off Betancourt and Ramirez followed with a single to extended his hitting streak to 15 games.
Cuddyer collected his third RBI of the night when he launched his 15th homer into the Colorado bullpen to score the Rockies' final run.
As the players rushed out of the clubhouse to catch a flight to Arizona late Thursday night, they walked with energy, a product of the win. And they will need it as they fight to establish themselves as contenders for the division crown.
"You know what, we're in our division, we need to play well," manager Walt Weiss said. "That's it."
Ian McCue is an associate reporter for MLB.com. This story was not subject to the approval of Major League Baseball or its clubs.