Dodgers focused on big picture after finale loss
Dodgers focused on big picture after finale loss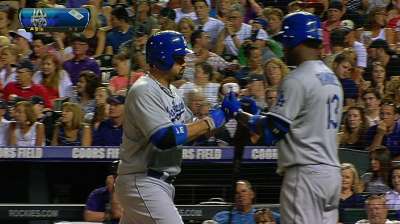 DENVER -- Manager Don Mattingly said he was a little disappointed that the Dodgers' 9-5 loss to the Rockies on Thursday night prevented a series sweep, but win 10 of 11 and it's hard not to get a little greedy.
His players were generally looking at the glass a little more full, as long as they can keep up the .667 pace the rest of this crucial trip through San Francisco and Arizona.
"They've got a good team, a good lineup, and we definitely can't win them all," said Adrian Gonzalez, whose 4-for-5 night included another homer, giving him one in each of the three games at Coors Field. "It's a good start to the road trip, and if we do it for two more series, we'll be good."
Offensively, the Dodgers were still good. Matt Kemp homered for the second consecutive game, declaring in no uncertain terms he wants to stay in the lineup no matter how many outfielders the team will have when Carl Crawford rejoins them in San Francisco.
"I want to play every day, that's what I'm used to doing," he said. "You can't get a rhythm sitting down. I understand the situation [Mattingly] is in -- he'll play the guys he thinks are going to win. I just want to keep playing, like I have in the past."
Hanley Ramirez extended his hitting streak to 15 games and fellow .400 hitter Yasiel Puig bounced off the wall Wednesday night and right back into the starting lineup, adding an RBI single despite a bruised left hip and thigh.
He brushed off a noticeable limp while scoring from first on Gonzalez's double in the sixth to just "feeling a little tight and a little tired, but it doesn't hurt. It feels very good."
Three of the four outs Puig made were chalked up to the pitching style of Rockies starter Jhoulys Chacin (8-3), according to Mattingly. He wouldn't specify how the sinker/slider specialist attacked Puig, but said only a few pitchers in the league can do what Chacin did, which was command the sinker in and slider down and away. Mattingly said the same thing last month about San Diego's Jason Marquis.
"They're trying different stuff and he'll have to make adjustments," Mattingly said of Puig. "Certain guys we see give him more trouble than the others."
Rockies pitchers were not giving Gonzalez trouble. He now has 13 home runs. Back when he had only two homers for all of April, he talked about accepting the possibility that with time and shoulder surgery he would adjust his hitting approach and settle for less. He had only three homers in June, now three in the first three games of July, but he's holding to the lower expectations he proclaimed in April.
"If I happen to hit home runs, I'm still a singles hitter," he said. "It's Colorado. The high altitude. I'm just trying to get singles up the middle."
All that said, it was still a loss, as starting pitcher Chris Capuano didn't get out of the fifth inning after absorbing the loss in last week's record-breaking 16-1 debacle in Los Angeles. Back-to-back losses for sure, but they came after 11 consecutive scoreless innings over two preceding solid starts.
"It's always going to be something," Mattingly said of the back end of his starting rotation. "You can't throw five Kershaws out there. A couple outings before this we were raving how good he is. You take the good with the bad."
Capuano is crafty and tough, willing to pitch on three days' rest last month, but he lacks the velocity that provides a margin for error. He said his cutter leaked over the plate too often and he thought he made adjustments he thought would minimize the damage.
But the third inning that started with opposing pitcher Chacin's bloop single turned into a four-run game-changer on a two-run double by Michael Cuddyer that left the Dodgers playing catch-up after Kemp's second-inning homer gave Capuano a 2-1 lead.
"It's frustrating, as a starter, to put your team in a hole like that," he said. "If I make a pitch to Cuddyer, it could have been a different game."
Capuano (2-6) was charged with five earned runs in 4 1/3 innings, his ERA now up to 5.19 even with the 11 scoreless innings. While rumors persist of management on the prowl for a starting pitcher before the July 31 Trade Deadline, there also is recovering lefty Ted Lilly, who has a rehab start scheduled for Saturday.
Chacin said the key at-bat for him was a strikeout of Nick Punto to end the third inning with the bases loaded and the Dodgers leading, 2-1.
"I think we were at the point in the game where it could have gone either way right there," Chacin said. "That was a big strikeout."
Ken Gurnick is a reporter for MLB.com. This story was not subject to the approval of Major League Baseball or its clubs.