Gibbons believes Rasmus' hard slide was clean
Gibbons believes Rasmus' hard slide was clean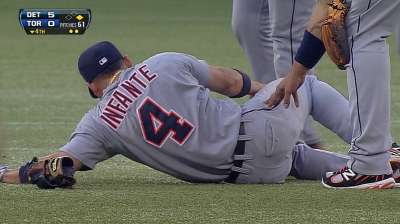 TORONTO -- Blue Jays manager John Gibbons has no problem with Colby Rasmus' hard slide into second in Wednesday's game vs. the Tigers that caused Omar Infante to depart with an injury.
"Everybody in this game wants their players to play hard," Gibbons said. "You don't want any cheap shots, but you want your players to play hard."
In the fourth inning on Wednesday, Rasmus attempted to break up a double play at second base, and ran into Infante's shin as he anchored to throw to first to turn two.
It was a play that the Blue Jays are accustomed to seeing from their center fielder on the bases.
"He plays hard, hard baseball," Gibbons said.
Despite being something that most managers demand -- aggressive baserunning -- the Tigers took offense to the play, which all boiled over when Torii Hunter was hit on the shoulder a couple innings later, clearing the benches.
"I thought it was good, a good hard slide," said Gibbons, who added that he isn't expecting any retribution from the Tigers in Thursday's contest.
However, the Toronto skipper can also see why it upset the opposing club.
"I can see their side of it too where they thought he slid late. I see both sides of it," Gibbons said. "If I'm on their side I think the same way."
"But I know Colby. Colby's not going to intentionally hurt somebody. That's just not who he is."
Evan Peaslee is an associate reporter for MLB.com. This story was not subject to the approval of Major League Baseball or its clubs.