Modern-day film study a study in and of itself
Modern-day film study a study in and of itself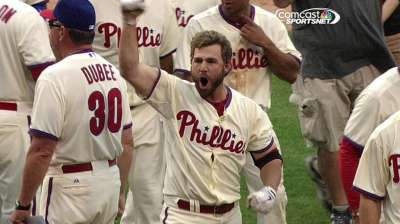 SAN DIEGO -- These days, watching film has become as much a part of a hitter's pregame routine as batting practice.
There's so much information on every opposing pitcher, and all of it is readily available with a few clicks of the mouse. Often, the biggest question isn't what to watch, but what not to watch.
"Every player is different," said Padres hitting coach Phil Plantier. "You have to know how each guy learns, what information certain guys absorb and how they get their information."
Indeed, all players are different in the way they approach a film session.
Phillies shortstop Jimmy Rollins likes to study when a pitcher will throw inside. He'll break down film with the intention of learning when exactly he'll get that pitch middle-in that he can drive.
Padres third baseman Chase Headley watches the way opposing hitters swing at the pitches thrown by his future opponent. He figures there's plenty to be said in a hitter's reaction that velocity or pitch charts just won't tell him.
Philadelphia third baseman Kevin Frandsen has a handful of National Leaguers that he follows on film. They're a group of players he considers similar to himself. He'll watch the way the opposing pitcher attacks those hitters, and that gives him an idea of just what pitches and sequences he might see later that night.
"When you're watching film, you have to know yourself," Rollins said. "You have to know, 'OK, he did that to that guy, but my scouting report says this. So how may they attack me?'
"They can still trick you. You could still do everything right -- he does this traditionally, but [he] throws something else. Then you tip your hat."
It's "the ultimate game of cat and mouse," Rollins said, and Plantier agrees, noting the most important part of film watching is making certain his players are watching the right keys.
"Video is one of the things that if used wrong, it can hurt them more than help them," Plantier said. "Looking at the video with the right purpose in mind -- it can be healthy, an advantage. If they're not looking at the right things, it can hurt them."
That's why Plantier and assistant hitting coach Alonzo Powell give their players a checklist when they're watching flim. Often times, they'll have specific at-bats or pitches picked out before the players even get to the clubhouse. All the hitters have to do is sit down and watch their personalized handful of clips.
The goal is to be certain his players aren't overloaded with too much information, which might make them "lock up" at the plate. Thus far, the strategy has worked for Plantier and the Friars, who are sixth in the National League in runs scored, despite a handful of injuries to key contributors. Should that trend continue throughout the season, it would be their highest offensive standing since moving to pitcher-friendly Petco Park in 2004.
Plantier, like most hitting coaches, believes the best time to watch film is early in the day, before any physical work is done. That way, players can apply any adjustments they need to make during BP. He isn't a huge fan of in-game video, unless it's quick and purposeful.
"If we're in the video room and not out here watching this guy pitch to teammates, you're not picking up in-game information," Plantier says.
Frandsen admittedly isn't much of a video guy, unless he feels he can apply it directly to himself.
"I feel like I'm different than a lot of our guys here," he said, looking around the clubhouse. "Because a lot of our guys have power. Guys might challenge me more. That's why I really have the same guys that I always look at when it comes to who [the opposing pitcher] has faced. I just go off of how that pitcher approaches them."
Of course, there's always the need to differentiate between what is seen on film and real-world experience. Rollins is quick to point out that "it's never the same, what you see on tape and what you see at the plate."
He'll often go light on the scouting of pitchers he's already faced. In his mind, the personal memory bank is better than the film library.
"Guys I've faced for years, I don't really watch much," Rollins said. "We have a history. It's not something before the game that changes. It's more the new guys. Those are the guys that -- even if you do your homework -- you don't trust it because you don't know them. You haven't faced them."
Headley somewhat agreed, but still prefers to watch familiar foes, simply to pick up on any new tendencies since the last time they've met. How often he's faced a pitcher impacts the way Headley will watch film.
"If it's somebody that I'm really familiar with, I may just be looking for a situational-type thing," Headley said. "What's he going to when he's in trouble. If a guy's on base, what's he going to do?
"For guys that you're not as familiar with, you're going to see arm angle, you're going to see how the ball is moving out of his hands."
Of course, it differs from player to player, and Plantier is quick to point out that scouting and research are only a small piece of the offensive puzzle.
"You've just got to know your players," Plantier said. "They're all different. They're not robots. They're people first, then they're baseball players. You've got to deal with the person first, and that rolls into the baseball player. Video is just a tool that you use to help them understand some concepts. It's not something that you want any player to live and breathe with. It's just an extremely helpful tool."
It's a tool that, when applied correctly, can make all the difference.
AJ Cassavell is a reporter for MLB.com. Follow him on Twitter @ajcassavell. This story was not subject to the approval of Major League Baseball or its clubs.