Verlander dominates Jays over seven shutout frames
Verlander dominates Jays over seven shutout frames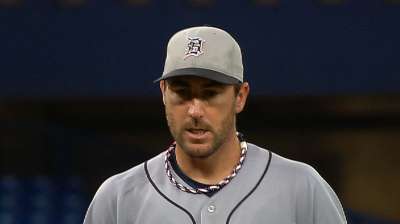 TORONTO -- Justin Verlander hadn't taken the mound at Rogers Centre since his no-hitter against the Blue Jays two years ago. A day before his return, he said that was the game that helped him become the dominant pitcher he was the rest of that year.
The way Verlander looked on the mound Thursday night, delivering seven shutout innings in an 11-1 win, the Tigers would love for this to do the same for him.
It wasn't a no-hitter, and it wasn't the best pitching line he has had this season. Yet to some, it might be the best pure pitching he has had all year.
"Yes, this year," Torii Hunter said. "That was an impressive outing for him. I definitely think he figured some things out a couple days ago, and I definitely think he's on the rise."
Manager Jim Leyland didn't put comparisons on it, but his superlatives said plenty.
"I thought he threw exceptionally well," he said. "I thought he threw the ball pretty hard, a little bit firmer than he has been at times. He used all his pitches like he normally does. He was just in command all the way."
Verlander wasn't so sure.
"It was obviously one of my better ones so far," he said. "Just trying to get myself to where I need to be."
He thinks he has better starts in his near future, and he's already looking forward. This might well end up being the step that gets him there.
"You guys have seen my best," he said with a smirk, noting the venue. "It's much better, though."
This was supposed to be the opportunity for the Blue Jays to get to him. He made improvements five days earlier in Tampa Bay for eight solid innings, but he has had outings like that this season become false steps forward. Moreover, with Miguel Cabrera and Omar Infante both out of the lineup, he shouldn't have run support helping him out.
Like Verlander at his best, he took any thoughts of vulnerability and shut them down. In the process, he had some in the crowd of 35,978 wondering if lightning could strike twice.
He understood, because he thought about another bid, too.
"After the first few innings, yeah, of course I did," Verlander said. "I did last time."
He retired the first 11 Blue Jays, striking out just two, but inducing several early-in-the-count outs to keep his pitch count down. When Edwin Encarncion turned away at a curveball that dropped over the plate for a strike with two outs in the fourth, the thought of another no-hit bid seemed legitimate.
Encarnacion dashed that idea on the next pitch, lining it over shortstop Jhonny Peralta and into left-center field for a single. Two groundball singles and two walks were all Verlander allowed for the remainder of his outing.
The curveball to Encarnacion was one highlight. The fifth-inning slider that sent Munenori Kawasaki twisting himself into the dirt on a swing and miss was another.
Verlander not only threw his fastball at 97-98 mph, he sustained it into the later innings. He dropped curveballs onto the corners early before losing a little feel for it later. He changed speeds with ease, not only with his secondary stuff, but with his fastball as well.
"I mean, he just pitches," said J.P. Arencibia, the only Toronto hitter to reach base against Verlander his last trip here. "He's got, obviously, four pitches he can throw at any time, so you've got to respect it. Whenever he wants, he can climb up to 97. If he wants to throw a slider at 90, he can throw a slider at 90. Then he'll throw you a fastball at 97."
His biggest obstacle preventing a bid at a shutout might have been his own offense. With Cabrera given a night to rest his sore back, and Infante out with a bruised left shin, the Tigers used a combination of supporting cast and role players to overwhelm Toronto starter Esmil Rogers.
"You lose those two guys, you're talking about a lot of hits," Hunter said. "So to come out and get those runs early for Verlander and then score some more runs without those guys, that's a lot of fun."
Andy Dirks, Prince Fielder and Peralta all hit RBI doubles for four runs over the first three innings. Austin Jackson had four hits and four runs scored, including a no-doubt two-run homer to left-center in the eighth. Even utilityman Don Kelly, starting at third base in Cabrera's place, had his first three-hit game since Sept. 21, 2011.
"Nobody in the league can be Miguel Cabrera," Kelly said. "You're going in there trying to stay within yourself and do anything you can."
Jackson's fifth homer of the year made it 9-0 and essentially left Verlander's services unnecessary for the final two innings. He finished with seven innings of three-hit ball, walking two and striking out five.
"He was going to go out for the eighth inning if he had a quick inning," Leyland said. "But when that inning went so long, I wasn't going to send him back out there."
Only a 17-2 win in Houston May 4 saw the Tigers score more runs on the road this year.
Jason Beck is a reporter for MLB.com. Read Beck's Blog and follow him on Twitter @beckjason. This story was not subject to the approval of Major League Baseball or its clubs.