Revere, Ruiz help Hamels best Bucs, clinch series
Revere, Ruiz help Hamels best Bucs, clinch series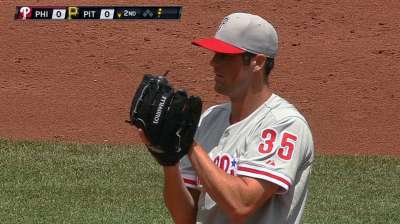 PITTSBURGH -- The Phillies, behind lefty Cole Hamels, downed the Pirates, 6-4, on Thursday afternoon in front of a crowd of 35,328 at PNC Park.
The Phillies are now 16-25 against the Pirates in Pittsburgh since PNC Park opened in 2001. It was the first series win for the Phils in Pittsburgh since April 25-27, 2008.
"It's good, this ballpark owes me some wins," Phillies manager Charlie Manuel said. "It beat me up when I was in Cleveland. It hasn't been good to me."
The beleaguered Hamels tossed seven innings and gave up two runs (one earned) on five hits. He notched eight strikeouts and got the victory, upping his record to 3-11.
"I thought Hamels pitched real good," Manuel said. "He didn't walk anybody and threw 103 pitches. I'm not saying the umpire missed some, but he was close with everything -- he was around the plate."
Hamels, who won for the first time since June 5, was pleased with his outing.
"Just being able to get back to what I know and establishing the strike zone early," Hamels said. "Throwing all my pitches, I think ultimately staying down in the zone. I think that's where I've gotten hurt in the past.
"I would get guys right where I want them, and then I'm not able to finish them off and leave the balls up in the zone, and the base hits were adding up and obviously the runs were scoring, so just being able to get guys out early and moving the ball around keeping them off balance. Just being able to really do that early and through the middle and obviously the third time up and still being able to mix and match."
Pirates manager Clint Hurdle felt Hamels was on top of his game.
"His command was sharp today compared to what we'd seen in the last few outings," Hurdle said. "His fastball command he mixed with the early changeup, which came into play. The curveball also came into play. The cutter. As far as his pitch efficiency overall, it was a good outing overall."
Pirates rookie right-hander Gerrit Cole pitched 5 1/3 innings and allowed three runs on eight hits. He took the loss, falling to 4-1.
Cole battled to try and keep his team in the game.
"You've just got to keep going," Cole explained. "We thought last start was going to be the same way. But if you just keep going, put your head down, sometimes things turn out in your favor. I gave it all I had, I tried to give it all I could. ... I've got to get ahead of guys going, hitting the spots over the plate."
The Pirates got to Hamels in the bottom of the third inning. With two outs, Starling Marte singled. Jose Tabata had an infield single, followed by an error by second baseman Chase Utley, which put runners at second and third. Andrew McCutchen singled up the middle, driving in Marte and Tabata, giving the Pirates a two-run lead.
The Phillies tallied in the top of the fifth inning. With one out, Carlos Ruiz singled, and Hamels sacrificed him to second. Ben Revere then singled to center, driving in Ruiz. McCutchen airmailed the ball home, and Revere wound up at third. Cole got Utley to ground out, ending the threat.
Philadelphia took the lead in the top of the sixth inning. With one out, Ryan Howard drew a walk. Domonic Brown singled to right, chasing Cole from the game. Delmon Young singled off Pirates reliever Vin Mazzaro, loading the bases. Kevin Frandsen blooped a single to right, scoring Howard. Ruiz singled, knocking in Brown and Young.
Hamels was hit by a pitch, and Mazzaro was removed from the game. Lefty Tony Watson retired Revere on a groundout, scoring Frandsen. Watson got out of the inning without further damage, but when the smoke cleared, the Phillies had scored four times for a 5-2 lead.
"Those runs we got, we had to earn," Manuel said. "We went up, 6-2, and they came crawling right back at us. We did some things right. We hit some balls where they weren't, and things worked out for us."
The Phillies tacked on an insurance run in the eighth inning. Young singled and eventually came around to score on a sacrifice fly by pinch-hitter Michael Young.
The Pirates sliced the lead to 6-4 in the bottom of the eighth against Phils reliever Justin De Fratus. Jordy Mercer, Marte and pinch-hitter Garrett Jones bunched consecutive singles, with Jones picking up an RBI. McCutchen grounded into a double play, scoring Marte.
Phillies right-hander Jonathan Papelbon worked a perfect ninth inning for his 17th save in 21 opportunities.
The Phillies return home for a 10-game homestand, starting with three games against NL East-leading Atlanta.
"We had a .500 road trip, but we were in a lot of these games," Delmon Young stated. "Hopefully we can play well against Atlanta and try to win the series and cut down the deficit before the All-Star break."
George Von Benko is a contributor to MLB.com. This story was not subject to the approval of Major League Baseball or its clubs.