Grinding success: Sox sweep aside Padres
Grinding success: Sox sweep aside Padres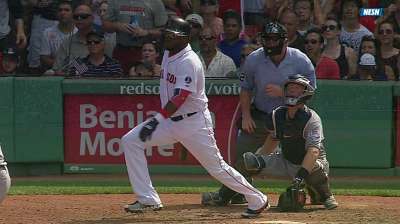 BOSTON -- When general manager Ben Cherington went about building this year's Red Sox roster, he had a clear vision on how to prevent another 69-win season.
Part of that vision centered on an offensive philosophy based on patient, long, grinding at-bats designed to run pitch counts up and force starters out of games.
So when the Red Sox combined for 18 hits Thursday as part of an 8-2 victory to sweep the visiting San Diego Padres at Fenway Park, manager John Farrell said it was another example of the Red Sox's offense, which has scored more runs than any team in baseball, making those preseason plans a reality.
Every Red Sox starter had at least one hit in the game and all but one (Brandon Synder) had at least two as Padres starter Eric Stults was forced to exit the game with just one out in the fifth inning having accumulated 91 pitches and given up four runs.
"It's one of the main characteristics of who we pursued in the offseason, [players] that have [patience] in their track record," Farrell said. "That is the approach. A lot of deep counts, try to get in the bullpen as early as possible. So this goes back to a lot of conversations in the offseason on who we are going to target, and it's playing out."
One of those targets was Mike Napoli, who leads the American League in pitches seen per plate appearance with 4.50. Daniel Nava and Dustin Pedroia are also in the top 20 and no team in the Major Leagues has seen more pitches this season than Boston. When pitchers face the Red Sox's lineup, they know they're in for a battle.
"When you look at them, you think they're a big swing-and-miss team," Stults said, "but they're scrappy. They're scrappy every at-bat. The whole series, they fought every pitcher we had out there."
The scrappy offense helped rookie starter Allen Webster earn his first Major League win in five starts this season. The right-hander worked through some occasional control issues to throw six innings of two-run ball. Webster, ranked the Red Sox's No. 4 prospect by MLB.com, entered the contest with a 9.50 ERA and left with a 7.88 mark.
"I feel like each start I'm getting a little better, a little better, a little better," said Webster. "We've been working on stuff in the bullpen just trying to get a little rhythm and being able to repeat my delivery a lot better.
In total, he lasted six innings and gave up two runs. The Padres threatened multiple times, including a bases loaded no-out situation in the third, but Webster routinely was able to work out of trouble.
"This really wasn't the best command of his fastball that he had that I've seen, but he had his changeup working, his slider working, and that got him back into his arm slot and kept him in counts," catcher Ryan Lavarnway said.
Webster has been inconsistent since being called up to replace the injured ace Clay Buchholz, but Thursday's outing was a sign of improvement. Combined with the starts of John Lackey and Jon Lester in the first two games of the series in which they gave up two runs over 15 innings, Webster's outing gave the starters 1.71 ERA for the three-game set.
"I think at each passing start here at this level he starts to get his feet underneath him," Farrell said. "Clearly he's a work in progress, but I thought today he made a couple of big pitches when he had to."
Though many Red Sox hitters had a big day, Jacoby Ellsbury's was probably the biggest. He clubbed his second home run of the year and his first since April 7 (314 at-bats) in the eighth and had three hits on the afternoon.
Ellsbury extended his hit streak to 14 games when he led off the first with a single. Shane Victorino doubled to move Ellsbury to third and Dustin Pedroia knocked a two-run double to give Boston an early 2-0 lead.
Snyder continued his hot streak in the second inning when he belted a 1-2 curveball into Boston's bullpen in right field for a solo home run. The third baseman has six RBIs in the five games he's played since being recalled from Triple-A Pawtucket.
One day after being named the AL Rookie of the Month for June, Jose Iglesias looped 1-2 fastball from Stults down the right-field line in the fourth. Iglesias scampered to third on the play as Napoli and Lavarnway, who both singled earlier in the inning, scored. But Angel Hernandez ruled it a ground-rule double, sending Iglesias back to second base and taking a run off the board.
The Sox's bullpen held the Padres scoreless in relief of Webster, including an encouraging outing from the struggling Andrew Bailey. The former closer struck out two batters in a perfect inning of work.
The victory ended Boston's nine-game homestand with an 8-1 record, the club's best stretch at Fenway since June 2010.
Michael Periatt is an associate reporter for MLB.com. This story was not subject to the approval of Major League Baseball or its clubs.