Zito laments lack of efficiency with pitches
Zito laments lack of efficiency with pitches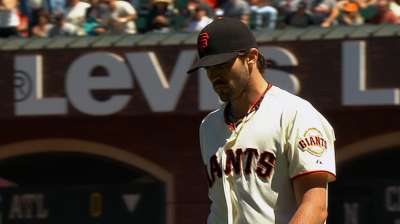 CINCINNATI -- Giants left-hander Barry Zito usually recorded the outs he needed against the Cincinnati Reds. He just didn't get them quickly enough.
Zito yielded seven hits but only one run to the Reds on Wednesday night. But Giants manager Bruce Bochy removed Zito two batters into the fifth inning, since he already had thrown 88 pitches.
"I was getting too deep in counts," said Zito, who entered the game with an 0-5 record and a 10.41 ERA in six road starts.
Zito went to both extremes against the Reds. After throwing just 10 pitches to four batters in a scoreless first inning, he needed 28 pitches to escape the second inning while allowing a run. He blanked Cincinnati in the third inning yet added 25 pitches to his total.
Zito's inability to put away opposing pitcher Tony Cingrani was his most telling shortcoming in the fourth inning. Zito threw seven pitches to Cingrani, who eventually doubled to center field.
Chris Haft is a reporter for MLB.com. This story was not subject to the approval of Major League Baseball or its clubs.