Manuel lobbying for Brown to make All-Star team
Manuel lobbying for Brown to make All-Star team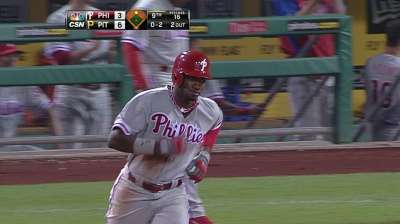 PITTSBURGH -- Phillies left fielder Domonic Brown is making a strong case for a spot on the National League All-Star team. He is batting .280 and is second in the NL with 22 home runs and fifth in RBIs with 60 entering Thursday's game.
Phillies manager Charlie Manuel feels that Brown deserves to play in the July 16 Midsummer Classic. All-Star teams will be announced on Saturday, and Manuel has said he will lobby for Brown.
For his part, Brown is low-key about making the All-Star team.
"It would mean a lot," Brown said. "But I'm not focusing on that. I'm not really focusing on the All-Star Game. If I don't make it, I'm just going to have to play better. That's my goal -- to just go out and keep playing hard."
George Von Benko is a contributor to MLB.com. This story was not subject to the approval of Major League Baseball or its clubs.