Orioles rally late, but fall on walk-off homer
Orioles rally late, but fall on walk-off homer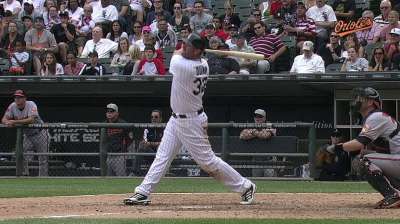 CHICAGO -- The Orioles' late-game rally fell short Thursday afternoon, with one of the club's best relievers, right-hander Tommy Hunter, surrendering a one-out walk-off homer to White Sox slugger Adam Dunn.
Dunn, whose fielding miscue helped Baltimore secure a two-run eighth, sent Hunter's full-count curveball into the left-field seats for a solo shot that handed the Orioles a 3-2 series loss in front of 21,321 at U.S. Cellular Field.
The defeat to last-place Chicago prevented Baltimore, who had three hits total, from gaining any ground in the American League East and stopped the club short of going what would have been a season-high 12 games over .500.
"They pitched real well," Orioles manager Buck Showalter said of a White Sox club that held one of baseball's best lineups to eight runs over the three-game set, capped by Jose Quintana's 11 strikeouts Thursday. "Usually I'm the first to say we got to do a little bit better job, but that was solid. [Quintana] had real late life.
"We knew coming in that, from a starting pitching standpoint, we were going to be challenged. They've got good starting pitching. It's not their problem."
It wasn't the Orioles' problem either, with lefty Zach Britton turning in his first quality start this season in a solid 99-pitch outing. The 25-year-old Britton went a season-high seven innings and held the White Sox to six hits, three of which came in a two-run sixth.
"I feel like I was getting better every time out," said Britton, who snapped a streak of three consecutive starts under six innings with his best game of the season. "Obviously the sixth inning has been a hurdle, but I felt I was even getting better, even though I wasn't getting out of that inning the last couple outings. It was kind of putting it a little bit more together. I feel like I still have a ways to go to get to where I want to be, but it's a good start."
Hunter got off on the right foot with a 1-2-3 eighth, and the power righty entered Thursday's game 3-0 with two saves and a 1.49 ERA over his last 30 games, pitching his way into a late-inning role. After getting Dayan Viciedo to fly out in the ninth, Hunter hung a curveball, and the lumbering Dunn didn't miss.
"He throws too hard to be looking for pitches," Dunn said of Hunter. "When it got to 3-2, I knew he had so many different pitches he could throw you. Still has a 100-mph fastball to worry about. It was one of those, see it, hit it and put it in play.''
Dunn's game-winning shot -- his 23rd homer of the season -- handed Hunter his first loss since April 3 and was just the second time in his last 10 appearances he has given up a run.
"It's just disappointing to lose in general," Hunter said. "I don't think it's any particular way. If you lose, you are going to be disappointed. I'm probably going to bounce back pretty good from this. I'm going to come back and throw curveballs again. It's not like it's the last time I'm ever going to throw one. I'm probably going to be in a situation like this pretty soon, so I got to shake it off, pat Zach Britton on the butt, say, 'Good job' and, 'Sorry' and move on."
The Orioles will try to do that as a team in New York, hoping to restart a lagging offense. Stonewalled by Quintana over seven innings, the O's capitalized on Dunn's fielding error to plate a pair of runs and tie it up off reliever Nate Jones.
Brian Roberts worked a leadoff walk -- giving the Orioles their second baserunner since the first inning -- and Nate McLouth followed with a double into right field. After pinch-hitter Chris Dickerson lined out, the Orioles caught a break when first baseman Dunn flubbed pinch-hitter Matt Wieters' routine grounder, allowing Roberts to score. Nick Markakis tied things up with a sacrifice fly to score McLouth.
"We had, what, two hits through seven innings?" shortstop J.J. Hardy said of an Orioles club that struck out 11 times during that span -- a new career high for Quintana -- and 13 times overall. "We were out there grinding. It was tough to put runs on the board and tough to get people on base. It was a good feeling to come back in the eighth and a bad feeling to lose like that."
Britton matched Quintana early and didn't allow a runner to reach third until the fourth inning, when Alex Rios opened with a single, stole second and advanced to third on a passed ball during Dunn's strikeout. Britton, who hobbled a little after throwing the next pitch, was visited briefly by head athletic trainer Richie Bancells and pitching coach Rick Adair.
"The mound out there is a really, really good mound, but it's kind of tacky, so your spikes kind of stick into it. When I came off the mound trying to make that play [on the passed ball during Dunn's strikeout], if it was fair, my foot kind of got stuck, so it was just a little cramp," said Britton, who remained in the game and got Jeff Keppinger to ground out to end the inning.
The White Sox got on the board with a two-run sixth -- on RBI singles from Rios and Dunn -- but Britton held firm after that, pitching a 1-2-3 seventh before handing the ball off to Hunter.
"I was real proud of Zach," Showalter said. "He pitched aggressively. He kept firing. If we had been able to push a run across there, he would have been the difference-maker."
Brittany Ghiroli is a reporter for MLB.com. Read her blog, Britt's Bird Watch, and follow her on Twitter @britt_ghiroli. This story was not subject to the approval of Major League Baseball or its clubs.