Ramos returns to Nats after hamstring strain
Ramos returns to Nats after hamstring strain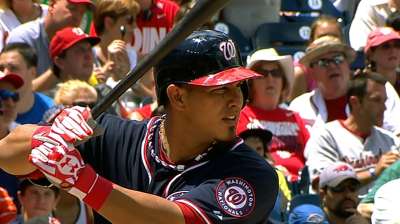 WASHINGTON -- Catcher Wilson Ramos returned to the Nationals as expected on Thursday after missing the last 44 games with a strained left hamstring. Manager Davey Johnson immediately inserted the 25-year-old into the starting lineup, in the No. 8 spot with right-hander Taylor Jordan on the mound.
Ramos mad his presence felt in a big way in the 8-5 Fourth of July win over the Brewers, going 3-for-4 with a career-high five RBIs, including a go-ahead three-run homer in the seventh.
After being kidnapped before the 2012 season in his native Venezuela, tearing his anterior cruciate ligament last year and twice landing on the disabled list this season with the hamstring strain, Ramos is ecstatic to finally be back in Washington.
"Yeah, it was a long rehab for me. Not as long as last year, but still long," he said. "I'm excited to be back, especially in this moment, with these games, the team hitting the ball, they're playing good. But for me, I think I can help the team a little bit, and I will try to do my best effort to help the team."
Entering Thursday, Ramos was hitting .250 in 48 at-bats this season with three doubles, two home runs and six RBIs. His replacements, Kurt Suzuki and Jhonatan Solano, are hitting .224 and .167, respectively. Solano was optioned to Triple-A Syracuse to clear a spot for Ramos on the roster.
"The last couple years has been really tough on him, starting from the kidnapping and then twisting his knee on a ball he went to pick up 15 feet behind home plate, and then the hamstring," Johnson said. "But hopefully he's good to go, and hopefully he won't have any more problems."
Ramos said his hamstring has felt fine for more than two weeks now. He received constant treatment at the team's training facility in Viera, Fla., and strengthened the muscle by exercising in a pool.
Ramos went 0-for-10 in three rehab games at Class A Potomac earlier this week, but said that he spent more time concentrating on his defense and running than he spent at the plate. He also admitted that he is somewhat concerned about straining the hamstring for a third time.
"It's a little bit hard, because I'm a little bit scared to get hurt again," Ramos said. "But you know right now I'm mentally 100 percent hard, strong. I don't want to think about that. I want to go out there and play hard and try to give my best effort."
Tom Schad is an associate reporter for MLB.com. Follow him on Twitter @Tom_Schad. Andrew Simon is a reporter for MLB.com. Follow him on Twitter @HitTheCutoff. This story was not subject to the approval of Major League Baseball or its clubs.