Late home run costs Brewers in loss to Nationals
Late home run costs Brewers in loss to Nationals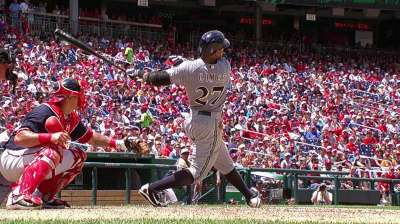 WASHINGTON -- The Brewers have been forced to work their usually excellent bullpen hard this season, and on Thursday it may have finally cost them.
Straying from his usual formula for the late innings, manager Ron Roenicke turned to right-hander Brandon Kintzler with a runner on base and the game tied in the seventh. Kintzler walked Anthony Rendon before surrendering the three-run home run to Wilson Ramos that decided the Nationals' 8-5 win over the Brewers on Independence Day in the nation's capital.
Kintzler hadn't allowed a run in 18 of his previous 21 appearances, but he hung a slider and Ramos did not miss. It was part of the Nationals catcher's three-hit, five-RBI performance in his from the disabled list with a hamstring injury.
"I take a lot of pride in us having one of the best bullpens in the Major Leagues," Kintzler said. "We battled back, and obviously we don't want it to fall on us. But if you're going to lose that game, it's going to be the bullpen's fault, anyways."
That was because the Brewers, who stayed close despite Donovan Hand's five-inning grind of a start, had just tied the game at 5 in the top of the seventh. Yuniesky Betancourt's pinch-hit home run off reliever Drew Storen was his ninth of the season but first since May 7, and three batters later, with two outs, center fielder Carlos Gomez tied the game with a two-run shot.
All three seventh-inning home runs were notable for who they came against. Storen had not surrendered a homer to a right-handed batter in his previous 96 appearances, spanning 86 1/3 innings over parts of three different seasons (both Betancourt and Gomez hit from the right side). And Kintzler had not allowed a home run to a right-handed batter in his first 33 appearances of 2013, spanning 35 innings.
The loss went to Kintzler's predecessor, Tom Gorzelanny, who was responsible for the runner at first base Kintzler inherited. It was the third of nine losses since June 20 hung on a Brewers reliever.
"When you look at the matchups, sometimes you can do things about it and sometimes you can't," Roenicke said. "We're at a place in our bullpen right now where I don't have a lot of options on who I'm going to. Usually in a tight ballgame like that, it's usually Ax [John Axford] and [Jim] Henderson and [Francisco Rodriguez], and we tried to stay away from those guys more today.
"Not that Kintzler isn't doing a good job -- he has been throwing great. … It's just that sometimes the [opposing] offense, they do a nice job."
Washington's schizophrenic offense had 11 hits after scoring one run in the previous two games combined. Thursday's output included three hits apiece for Ramos, Ian Desmond and Jayson Werth and two from Adam LaRoche.
Ramos celebrated his return from a second stint on the disabled list by taking a curtain call after his go-ahead home run.
"I'm happy for this day, for me, for my family, for my team," Ramos said. "They were waiting for me, for my return. I'm happy, happy for this day. Hopefully I will help the team win a lot of games."
The Brewers took their only lead shortly after the 11:05 a.m. ET first pitch, but the 1-0 advantage was short-lived, as Hand surrendered two runs in the bottom of the first and went on to throw only 51 of 86 pitches for strikes, allowing three runs and six hits in five innings.
The rookie had established himself as a strike-thrower in his first two starts, including an outing in Pittsburgh on Saturday in which he threw 53 of 64 pitches in the zone. Thursday was much more of a grind, with LaRoche and Werth hitting RBI singles in Washington's go-ahead first and Ryan Zimmerman delivering a deep sacrifice fly in the third, on which Gomez made a nice catch a half-step before banging into the wall.
Hand's fastball rode instead of sinking, and his breaking ball lacked bite. After fighting through five innings, he told pitching coach Rick Kranitz he counted the outing as a learning experience.
"It's kind of intimidating. You know you're facing the best of the best," Hand said. "That lineup has some guys who can hit it out of the park and put together some good at-bats, and it's a little intimidating. But I learned that I can [limit the damage] and give us a chance to win. It's a big step."
Roenicke agreed.
"Really, they could have blown open that game," Roenicke said, "and he made some nice pitches to keep it there and give us a chance to tie it up."
The Brewers evened it in the seventh when Gomez connected for his first home run since June 16 in Cincinnati. His smile was wiped away a half-inning later, when Roenicke removed Gomez as part of the double switch that brought Kintzler into the game.
Roenicke explained that he needed multiple innings from Kintzler because of other relievers' recent use, so someone had to go. He considered switching out catcher Jonathan Lucroy, but picked Gomez because the speedster had "tightened up" after a making his wall-banging catch back in the third. Roenicke declined to say what part of Gomez was affected.
Gomez seemed to dispute the notion he was banged up.
"My manager wanted to give me a little rest, but I'm surprised when I got removed from the game for a double switch," Gomez said. "It surprised me when I got out of the game, especially after I hit a homer."
He expected to be back in center field on Friday, when his first Major League team, the Mets, come to Miller Park.
Adam McCalvy is a reporter for MLB.com. Read his blog, Brew Beat, and follow him on Twitter at @AdamMcCalvy. This story was not subject to the approval of Major League Baseball or its clubs.