Gallardo not concerning himself with trade rumors
Gallardo not concerning himself with trade rumors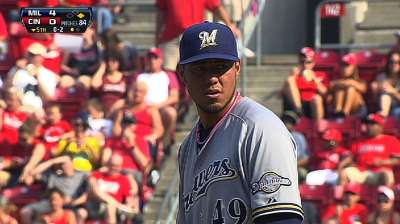 WASHINGTON -- The trade rumors linking Brewers right-hander Yovani Gallardo to the D-backs have legs, according to multiple sources, but Gallardo said Thursday morning he had more important things to worry about.
"You can think about it all you want, but there's nothing you can do," Gallardo said. "There's really nothing you can do. You just have to go out there and pitch, and then wait around to see what happens. It's already hard enough to pitch at this level to begin with, so the last thing you need is to be thinking about things like that."
The D-backs and Brewers have had preliminary discussions about a deal involving Gallardo and Arizona's left-handed prospect Tyler Skaggs, a player Milwaukee officials -- and plenty of other teams -- are high on. Those talks were first reported Wednesday night by FOXSports.com and CBSSports.com, with FOX's Ken Rosenthal saying Arizona had also inquired about relievers John Axford, Jim Henderson and Francisco Rodriguez.
But as of Thursday morning, no trades were imminent. General manager Doug Melvin has expressed an openness to making deals before the July 31 Trade Deadline, and would probably target an impact pitching prospect and/or corner infielders in a significant trade.
Gallardo, 27, is signed at $7.75 million this season and $11.25 million for 2014, with a $13 million club option for 2015 or a $600,000 buyout. He threw 21 consecutive scoreless innings over three stellar starts from May 10-20, but has struggled mightily in his last two, allowing 11 earned runs on 17 hits and six walks over seven innings against the Cubs and Nationals.
Brewers manager Ron Roenicke encountered a similar situation last season with Zack Greinke, and the two chatted about staying focused amid swirling rumors. Roenicke is planning a similar sit-down with Gallardo, though he made clear that Greinke was different in that he was a free agent-to-be, and thus much more likely to be dealt.
"We've got control over Yo for this year, next year and an option year -- and it's at a pretty friendly price for the type of pitcher he is," Roenicke said. "So unless Doug [Melvin] gets something that really makes sense, he's going to be with us."
Said Gallardo: "Like I said before, I obviously haven't been in this situation before. I still have to go out there and pitch, no matter what happens. It seems like there's names being brought up every year, so it's not like it changes. It's something that happens in this business. Whether I'm here or somewhere else, I still have to go out and pitch and perform for whichever team."
Would it get to the point where he asked Melvin about the veracity of a specific rumor?
"No, I wouldn't ever ask," Gallardo said. "The main focus for me is pitching. Whatever rumors are out there with whatever teams it is, I'm going to go out there and pitch every five days. Yet again, I understand the business side of it. That's how this game is. I just have to focus on what I can control, what I can do.
"But like I said, we all hear things. I'm not going to lie. We all hear rumors or talks and things like that. But basically I just leave it at that. I hear them, and then don't think about it too much. If it's going to happen, it's going to happen."
A couple of weeks ago, Gallardo said he could not name any of the 10 teams on his limited no-trade list. Now he said he could name "a few."
Arizona is not on his list. The website MLBDailyDish.com reported last week that Gallardo can block deals to the Orioles, Red Sox, Indians, Tigers, Astros, Angels, Yankees, Phillies, Pirates and Blue Jays.
"It's obviously depending on the situation," he said. "It's 10 teams. If you think about it, that's really not a lot."
Asked what he would tell Gallardo, Roenicke said, "It's pretty basic. Just making sure they're staying focused on the things they need to do. This game -- this life, really -- we don't control much that goes on. We can control our attitude, and that's about it. We wake up in the morning, you tell yourself your attitude is going to be good, and then the rest of the day you're not in control of anything. A pitcher goes out there, he can make great pitches, and in this game a hitter can cue one off the end of the bat and end up driving in two runs. To worry about everything that goes on can really beat you up if you let it."
Adam McCalvy is a reporter for MLB.com. Read his blog, Brew Beat, and follow him on Twitter at @AdamMcCalvy. This story was not subject to the approval of Major League Baseball or its clubs.