Francisco makes second start at third base
Francisco makes second start at third base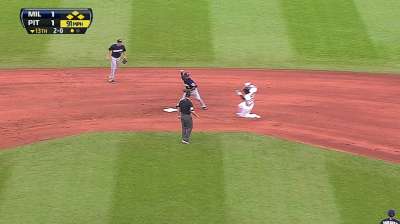 WASHINGTON -- A month since the Brewers traded for him, Juan Francisco has finally logged multiple starts at third base, his natural position. He made his second start there on Thursday and committed a pair of errors -- one throwing, one fielding -- before moving over to first as part of a seventh-inning double switch.
Francisco has mostly played first base since the Braves traded him to the Brewers on June 3. The Brewers are evaluating whether the power-hitting Francisco fits into their future plans, whatever his defensive position.
"We'll get him to his normal position and we'll see," Roenicke said before the game. "It looks like he has good hands. He's got a good arm. We'll see how he moves around out there."
When it was remarked that the 6-foot-2, 240-pounder does not look like a typical third baseman, Roenicke said, "You look at Panda [Pablo Sandoval] in San Francisco, so [Francisco] is looking pretty good compared to him. But it's a little bit different [than first base], and that's why I'm curious to see how he moves around."
Francisco's throwing error in the third inning contributed to one Nationals run, and his fielding error in the sixth helped Washington score two more. But none of the runs were unearned.
Adam McCalvy is a reporter for MLB.com. Read his blog, Brew Beat, and follow him on Twitter at @AdamMcCalvy. This story was not subject to the approval of Major League Baseball or its clubs.