Are early pitching surprises built to sustain success?
Are early pitching surprises built to sustain success?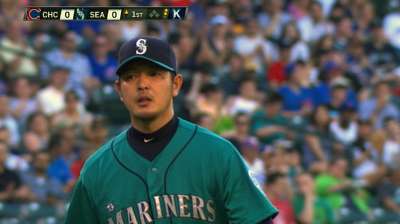 Pitching performances are hard to prognosticate, so naturally a plethora of pitchers have been pleasant surprises during the first half of 2013. The below list includes only Major Leaguers who are currently active and healthy.
• Mariners starter Hisashi Iwakuma
MLB.com 2013 player preview rank: 247
MLB.com preseason projected stats: 10-10, 3.72 ERA, 1.30 WHIP, 136 K, 57 BB
Stats through 17 starts: 7-3, 2.42 ERA, 0.88 WHIP, 101 K, 17 BB
Seattle got a glimpse of Iwakuma's potential during the second half of 2012, and it liked what it saw. In 2013, he has exceeded even those expectations, and those set for him in Spring Training.
The biggest factors in the righty's success have been his lowered walk rate and increased fly ball rate. He went from issuing 3.09 BB/9 in 2012 to 1.33 BB/9 now. This control has helped lead to a league-best 0.88 WHIP. Iwakuma is also pitching smarter, as he is surrendering more fly-ball outs -- his fly-ball rate of 37.8 percent is up from 27.3 percent last season -- suggesting he has learned to pitch to his park, the spacious Safeco Field.
However, owners should be aware of the hurler's split stats. In Seattle, his ERA is just 1.84, while 3.14 when away. Though his road stats are nothing to scoff at, it does suggest he benefits from working in his pitcher-friendly home park. Nonetheless, Iwakuma is having an outstanding season and gives value across the board. Expect his ERA to stay below 3.00 for the rest of 2013, with a WHIP no higher than 1.00. And if he continues to record strikeouts as he has, Iwakuma could even approach the coveted 200-strikeout plateau.
• Pirates starter Jeff Locke
MLB.com 2013 player preview rank: Unranked
Stats through 17 starts: 8-1, 2.12 ERA, 1.15 WHIP, 69 K, 44 BB
Emerging from Spring Training as the fifth starter on Pittsburgh's staff, Locke has pitched like an ace. He was shaky through his first three starts (nine earned runs in 15 2/3 innings), but since April 23, he has been dominant. Locke has surrendered just 13 earned runs in 80 2/3 innings since that time, good for a 1.45 ERA. Batters are hitting an anemic .206 against Locke on the year.
Locke has had a penchant for not allowing baserunners to score. His left-on-base percentage of 85.6, however, suggests that he has received his fair share of luck. By comparison, the big league average for the stat currently sits at 73.1 percent.
Another key to Locke's success has been his ability to record ground balls at 53 percent, well above the 44 percent league average. His one blemish on the season has been his walk rate. Locke has issued at least one walk in every start this season, including a career-high seven against the Cubs on June 9. Locke won't be elite until he can pinpoint his pitches and lower his walk percentage.
The Pirates have kept Locke from going deep into games all season, but expect him to continue harnessing his skills as the year progresses. Owners can expect another 60 to 65 strikeouts and a walks-inflated WHIP in the 1.30 range. Also prepare for his ERA to end around 3.50, as eventually those men on base will start to score.
• Cardinals closer Edward Mujica
MLB.com 2013 player preview rank: Unranked
Stats through 33 appearances: 21 SV, 2.14 ERA, 0.71 WHIP, 30 K, 2 BB
Mujica was still supposed to be a setup man after closer Jason Motte went down for the season, with Mitchell Boggs tagged to close out St. Louis games. But when Boggs surrendered 15 earned runs through 10 2/3 innings, Mujica started getting the call and never looked back.
Since April 18 -- when he took over the closer's role -- Mujica has held hitters to a .184 average and more impressively, has issued just one walk. His K/BB ratio is an outstanding 15.0, well above every other closer in baseball.
Mujica's split-finger fastball has been exceptionally effective all year, helping to cement him as the ninth-inning man for the Redbirds. However, owners should be aware that his fielding independent pitching (FIP) is at 3.00, which suggests Mujica has performed well with help from some lucky peripherals. A look at his .205 BABIP lends credence to the notion, as the hurler could be due for some regression in the batting-average department. Expect the 29-year-old to keep rolling along, netting 20 more saves, but don't be surprised if his ERA is up around 2.80 by the time October arrives.
• Pirates closer Jason Grilli
MLB.com 2013 player preview rank: 198
MLB.com preseason projected stats: 30 SV, 3.45 ERA, 1.25 WHIP, 62 K, 26 BB
Stats through 40 appearances: 28 SV, 2.15 ERA, 0.88 WHIP, 60 K, 7 BB
Grilli entered his 11th big league season with uncertain expectations. But so far, the longtime setup man has excelled at the back of the first-place Pirates' bullpen. After being projected to collect 30 saves this season, he is at 28 in the first half.
There is a noticeable disparity between projected and actual WHIP, showing that Grilli has been far more dominant and overpowering than anticipated. Batters are hitting a lowly .187 against the Pirates closer and striking out 41.3 percent of the time. Should his success continue, those would both be career highs by no small margin. And perhaps most importantly, the right-hander's BABIP sits at .307, which is league average, if not a little high for a reliever, suggesting everything he's shown so far is legitimate.
Nothing about Grilli's performance suggests he's going to slow down. He walks just 4.9 percent of opponents. His FIP is a sensational 0.84, yet another sign that his sensational season has been real. The 36-year-old should have no trouble netting another 25 saves for the powerful Pittsburgh club, and expect him to do it in style, adding another 45 strikeouts to his impressive campaign.
Caroline Warren is a fantasy writer for MLB.com. This story was not subject to the approval of Major League Baseball or its clubs.