Giants' woes continue with walk-off loss
Giants' woes continue with walk-off loss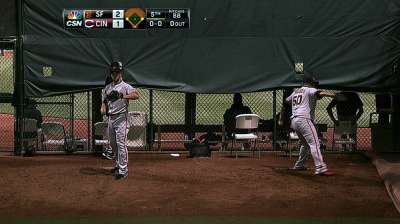 CINCINNATI -- Hunter Pence reflected on the malaise enveloping the Giants, from their inability to hit consistently to their last-place status in the National League West, and shared a relevant thought.
"I read this somewhere: If you're going through hell, keep going," said Pence, San Francisco's indefatigable right fielder. "That's what it feels like right now."
Maintaining sheer effort until results improve is about all the Giants can hope for these days. They can't lean on their performance, which continued to lag with Wednesday's 3-2, 11-inning loss to the Cincinnati Reds. Shin-Soo Choo's RBI single with two outs off Javier Lopez broke a 2-2 tie and ended the four-hour, 35-minute standoff.
San Francisco's roll call of futility now includes nine losses in 10 games overall and a 1-8 record on its three-city trip that mercifully ends Thursday.
Moreover, the Giants' punchlessness persisted. They're batting .082 (7-for-85) in this series, mustering five hits in this game following Homer Bailey's no-hitter Tuesday. San Francisco has scored two runs or fewer in 10 of its last 13 games and five runs or fewer in 18 consecutive games, their longest such stretch since a 20-game drought from July 29 to Aug. 19, 2008.
Individually, Gregor Blanco and Brandon Crawford are hitless in their last 22 and 21 at-bats, respectively. Pablo Sandoval went 0-for-5 with three strikeouts, extending his tailspin to 1-for-30. Even Pence is in a 2-for-25 skid.
"We have too many guys scuffling right now," manager Bruce Bochy said. "... I wish I had a reason to tell you why, but whether they're pressing or trying too hard, I wish I had the answer. I'd get them going."
Pence implied that the reigning World Series champions remain self-motivated.
"We're going to keep fighting," he said. "This is definitely frustrating for everyone. ... We have a long way to go. It's pretty understood that Pablo and myself, we're better hitters than what's happened these last couple of games. It's very positive to see how our pitching is fighting for us."
Bochy offered a simple theory for Sandoval's woes, which have dropped his batting average to .264: "He looks like he's not seeing the ball well."
Bochy clearly saw what he had to do. After Tony Abreu's two-run, fifth-inning homer gave the Giants a 2-1 edge, Bochy managed as if this were one of the postseason games the Giants have happily grown accustomed to in recent years.
Cincinnati threatened the Giants' lead immediately in its half of the fifth when Choo and Zack Cozart singled to put runners on the corners. Bochy replaced starter Barry Zito with Jose Mijares, who struck out Joey Votto. George Kontos relieved Mijares and impressively escaped the jam by fanning cleanup hitter Brandon Phillips and two-time All-Star Jay Bruce.
"We're doing all we can to win a game right now," Bochy said.
Kontos wasn't as fortunate with one out in the sixth, when Chris Heisey homered to tie the score. Nevertheless, six relievers combined to yield two runs in 6 2/3 innings.
"I put them in a tough spot tonight," Zito said, lamenting his inability to work deeper into the game.
The Giants, who went 0-for-7 with runners in scoring position, wasted Joaquin Arias' one-out double in the 11th. Cincinnati then began its winning rally as Lopez, who worked a perfect 10th, walked Todd Frazier on four pitches. Heisey's sacrifice bunt advanced Frazier to second base and prompted an intentional walk to Devin Mesoraco. Lopez neared escape by coaxing pinch-hitter Ryan Hanigan's popup. But Choo lined an 0-1 pitch to a vast, unoccupied gulf in right field, scoring Frazier easily. That ended Lopez's stretch of 21 consecutive games in which he wasn't charged with a run.
The Giants hit poorly, but gave themselves hope with solid pitching and defense.
"It's frustrating, but there are some encouraging things that are going on," Kontos said. "We're pretty close. We're just falling short right now and I think hopefully we'll come out of it quickly."
Chris Haft is a reporter for MLB.com. This story was not subject to the approval of Major League Baseball or its clubs.