Seager powers Mariners past Rangers in extras
Seager powers Mariners past Rangers in extras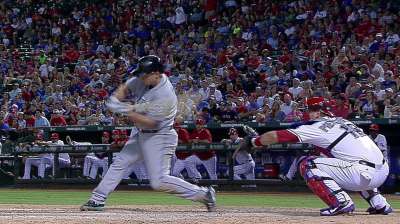 ARLINGTON -- Felix Hernandez held the Rangers in check for seven innings Wednesday and Kyle Seager put the Mariners over the top with a two-run homer in the 10th as Seattle won its second straight over Texas, 4-2.
Seager's winning shot came against Rangers reliever Robbie Ross, a 371-foot line drive to right field after Michael Saunders had drawn a two-out walk.
It was Seager's first go-ahead home run in the eighth inning or later in a game, and he wasn't sure this one was out until it snuck over the fence.
"I was certainly hoping," Seager said. "I knew I hit it pretty good, but it didn't really get too high for me. So I was hoping, let's put it that way."
The loss was just the second in 12 career decisions for Ross, who came in with a 1.86 ERA.
"Seager hit a pitch that I thought was a good pitch in my mind," said the southpaw. "I went back and looked at it, and he was already ready for it. When a guy sees it out of your hand and hits it, most of the time he's right on it. And he was right on it."
The Mariners had struck out 14 times and were 2-for-10 with runners in scoring position until Seager launched his 12th homer of the year. The win improved Seattle to 37-47 on the season and 5-7 against the Rangers.
"This was big for us," said Hernandez. "We needed to finally come through here in this place."
Tom Wilhelmsen, back in the closer's role, picked up his first save since June 10, setting down the Rangers in order in the 10th. Charlie Furbush picked up the win after retiring five straight in the eighth and ninth.
Manager Eric Wedge said Wilhelmsen hasn't been handed back the keys to the closer's job, but with Carter Capps out with an illness and Danny Farquhar his only remaining right-handed options, the situation lined up and the big right-hander delivered.
"With what Tommy's been doing, the momentum he's gained, it was a good opportunity for him to do that," Wedge said. "It wasn't something we sat down with him ahead of time and said, 'This is going to be your role.' We just rolled into it and matched up like we do. I had Oliver [Perez] ready for [A.J.] Pierzynski in case it got that far, but Tommy looked great tonight."
Wilhelmsen has faced the minimum 17 batters over his last six games and appears to be regaining his confidence, but he's more concerned about wins than titles.
"Every single inning is exciting and fun to be out there," he said. "If we had scored runs the inning prior, I wouldn't have been out there. So I don't know or quite frankly care so much if it's a closer's role or not. It's just getting outs at this point."
Hernandez wound up with a no-decision after departing with the game tied at 2 going into the eighth. He remains 12-18 in 37 career starts against Texas and 5-8 in Rangers Ballpark and hasn't won in Arlington since Sept. 28, 2010.
Making his last start before the All-Star teams are announced Saturday, Hernandez saw his record stay at 8-4 with a 2.69 ERA as he allowed two runs on seven hits, two walks and seven strikeouts while throwing 107 pitches.
The only damage the Rangers managed against Hernandez came in the fifth with a pair of solo home runs by David Murphy and Ian Kinsler.
Murphy led off the inning with a 402-foot shot to right on a 2-0 sinker that tied the game at 1, with Kinsler following one out later with an 11-pitch battle that ended when Hernandez left a fastball up that the second baseman drove into the left-field seats.
"This ballpark, when the ball is flying, I just try to keep it down and make some pitches," Hernandez said. "Just keep the ball down and try not to let the other guys score seven runs. They are pretty tough. Those two homers, I fell behind against Murphy and he hit it pretty good. Kinsler put a great at-bat and I missed my pitch and he hit it out of the ballpark. I used everything. He just fouled them off. He was a tough at-bat."
Seattle played its own long ball early when Jason Bay, batting leadoff with Endy Chavez not in the lineup, opened the game with a home run to left field off Derek Holland.
It was Bay's 11th home run of the year and all have been solo shots. Bay was batting leadoff for just the 11th time in his career -- all those coming this season -- and he's now hit two leadoff home runs.
Seager and Justin Smoak each finished with three hits, with Smoak reaching base four times in a 3-for-4 night with a walk as he raised his average to .255.
With the two victories, the Mariners have clinched the series win -- their first in Texas since May 28-30 last year -- at a park where they're now 7-17 over the past four seasons.
"That's obviously a really good team over there," said Seager. "[Joe] Saunders did a great job yesterday throwing the ball and Felix was Felix tonight again. He threw the ball great and the bullpen came in and did a great job. Any time the pitchers are only letting that offense score a few runs, you're going to get a chance."
Greg Johns is a reporter for MLB.com. Follow him on Twitter @GregJohnsMLB as well as his Mariners Musings blog. This story was not subject to the approval of Major League Baseball or its clubs.