Nolasco ignores rumors, hits 1,000 K's in win
Nolasco ignores rumors, hits 1,000 K's in win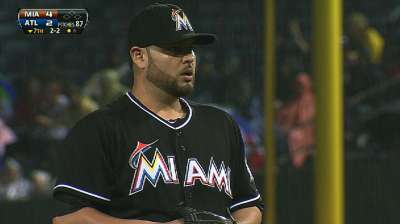 ATLANTA -- With rumors swirling that he will soon be traded, Ricky Nolasco instead remained focused on the moment and reached a milestone in the process.
Nolasco struck out seven and gave up two runs in seven innings on Wednesday night, and the Marlins rallied to beat the Braves, 6-3, at a rain-soaked Turner Field.
"The conditions were terrible," Marlins manager Mike Redmond said. "They said that maybe it was going to drizzle over the course of the game. I'm not sure that was a little more than a drizzle. You get that a lot here in Atlanta."
It was a gritty win for Miami in a place the Braves don't lose very often. Atlanta fell to 29-12 at home, which remains the best home record in baseball.
Justin Ruggiano delivered a three-run homer, and the Marlins bounced back after losing, 11-3, on Tuesday to beat the Braves for the first time in five meetings this year.
The question entering the day was whether Nolasco would be dealt before he took the mound. Scouts from a number of teams -- including the Giants, Rockies, Pirates, Red Sox, Rangers, Giants and Padres -- were on hand to see the veteran right-hander, who is on the trade block.
"It is what it is," Nolasco said of the speculation. "It's been going on for a while. I'm not believing anything. I'm not trying to read anything until something actually happens, or if it happens, whatever it is.
"I'm just trying to block it out as much as I can. I'm going out there, just trying to go out there every day, and eat up as many innings as possible and help us win. Whatever happens happens is my mindset on it, and I think it's been helping me out really well."
Nolasco kept his poise and collected a rare win against Atlanta, a team he is now 6-10 against in his career.
"It started getting ugly there after the first few innings," Nolasco said of the conditions. "The grounds crew did a great job. At that point, it's just mind over matter. They've got to deal with it. You've got to deal with it. Everybody's got to deal with it."
In his eighth season with the Marlins, Nolasco already holds a number of significant club records. The 30-year-old now added a personal milestone, reaching 1,000 strikeouts.
The benchmark came in the sixth inning when he fanned Brian McCann -- who homered off him two innings earlier -- on a breaking ball. It was Nolasco's sixth strikeout of the night, and it was a big one, because it stranded Freddie Freeman at third.
The irony is McCann entered the game batting .345 lifetime against Nolasco. The Atlanta catcher now has eight home runs off the veteran right-hander after his shot to right field in the fourth inning.
"It's kind of funny the 1,000 K would be against the guy who has given me the most problems over my career," Nolasco said. "At least I can say that. I can't say much about him, but at least I got that."
With the Marlins leading 4-2 at the time, Freeman, with two strikes and two outs, had singled to left. Catcher Jeff Mathis attempted to catch Freeman napping at first and tried a pickoff throw. Shielded by the left-handed-hitting McCann, first baseman Ed Lucas didn't see the throw, which skipped down the right-field line, enabling Freeman to advance to third.
Nolasco prevented any further damage with the key strikeout.
There were questions as to whether the game would even be played. It rained all day in Atlanta, and the start was delayed by eight minutes. The hope was to get at least the minimum five innings to make the game official.
"I was happy, obviously, with the team effort," Redmond said. "But I was happy for Ricky, especially. He gave us a chance. He gave our offense a chance. It was fun to watch him. I know it wasn't easy, but he battled. That pretty much sums up Ricky and the way he's handled everything this year."
Mike Minor was primed nicely, holding a two-run lead with two outs and one on in the fifth. Donovan Solano doubled and moved to third on a wild pitch.
A big moment came when Nolasco drew a two-out walk, because two pitches later, Ruggiano blasted a three-run homer to left, putting Miami in front, 3-2.
The deteriorating conditions may have worked to the Marlins' benefit in the inning.
"It was just some of the balls I was getting back," Minor said. "I really didn't complain about it because both pitchers were pitching with them. But no matter what ball I got back was kind of wet."
Ruggiano was motivated by how Nolasco was able to work out a two-out walk, setting up his drive to left.
"He kind of fired me up a little bit," Ruggiano said. "I had to slow myself down just to get in the box. That was a great at-bat. It gave us a chance. I think he just missed his spot a little bit with a fastball."
Adeiny Hechavarria's two-out RBI double in the sixth inning padded the lead. And Mathis delivered some insurance with a two-run double in the eighth.
The Braves chipped back with a run in the ninth that was charged to Mike Dunn. Steve Cishek came in with one out and two on and logged the save on a night that may have featured Nolasco's final start as a Marlin.
"He's the ultimate professional," Ruggiano said of Nolasco. "That's all I can say about him. He just kind of shrugs it off, brushes it off his shoulders. He's been in this game, I guess, long enough to do that.
"If that was going on with me, I'd probably be a wreck, to be honest with you. That's tough. I've got a family to take care of. He's handled it well. All of us know that at any second we could be traded in here. But him, especially, all the media has been on him to go out there and handle his business."
Joe Frisaro is a reporter for MLB.com. He writes a blog, called The Fish Pond. Follow him on Twitter @JoeFrisaro. This story was not subject to the approval of Major League Baseball or its clubs.