Miscues sting Johnson in heated affair with Tigers
Miscues sting Johnson in heated affair with Tigers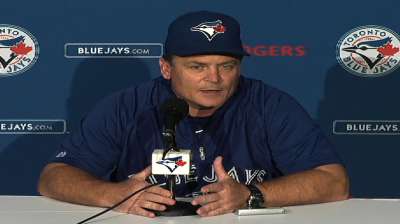 TORONTO -- The Blue Jays and Tigers had one of the best rivalries in Major League Baseball during the 1980s. It might have taken a little while, but it's possible the feud between the former division foes has been brought back to life.
There's always been a level of antagonism among the fan bases for both organizations, with the cities being approximately four hours apart. But it was on the field Wednesday night that the environment turned testy for at least one game.
Josh Johnson was roughed up for six runs over five innings in a 6-2 Blue Jays' loss that was overshadowed by a controversial slide at second base by Colby Rasmus and a benches-clearing altercation involving Torii Hunter later in the game.
"I go in hard every time and my intention is never to hurt anybody or anything like that," Rasmus said. "I was taught that early in this game and that's how I play. I didn't mean for anything bad to happen, but it's no different than any time I come in."
The incident in question came during the fourth inning, when Rasmus attempted to break up a double play at second base. Tigers shortstop Jhonny Peralta fielded the ball cleanly and threw to Omar Infante at second as Rasmus came crashing in.
Rasmus' foot, or lower leg, appeared to make direct contact with Infante's shin, and the Tigers' infielder immediately crumpled to the ground. Rasmus' momentum carried him over second base and he quickly brushed himself off and jogged back to the Blue Jays' dugout.
It was a scene very familiar to the Blue Jays, who have grown accustomed to Rasmus' aggressive slides -- he's known as being one of the best players on the team at breaking up double plays. The difference this time was that Infante had to leave the game with a contusion on his left shin, and the injury could have been a lot more severe.
Despite the relatively scary incident, Rasmus insisted it wasn't malicious and strongly disagreed with the sentiment in Detroit's clubhouse that a suspension should be forthcoming.
"That's their thought on it," Rasmus said. "Obviously, they're going to be upset, but that's just part of the game."
The tension carried over into the sixth inning, when Hunter was hit by a pitch with nobody out and a runner on base. Hunter was incensed at right-hander Todd Redmond and the benches cleared, but cooler heads quickly prevailed.
Hunter had to be restrained by several players, but there weren't any major confrontations between the two sides. Redmond stated after the game that the pitch simply got away from him and Hunter went on to say his reaction was based less on the pitch and more on what happened a couple of innings before.
"Trust me, it's nothing against Redmond," Hunter said. "It was all Rasmus sliding late with his spikes up. There's no way you're going to turn a double play there with Rajai Davis running and the score 5-0.
"I was just mad. It hurt, first of all, and he came up and in, and then they took out my second baseman. I just vented."
The two incidents overshadowed what otherwise will go down as another rough night at the ballpark for Johnson. Toronto's right-hander didn't receive a lot of help in the field, and only one of the runs was earned, but his lack of execution during the early stages of the game ultimately led to his undoing.
Johnson had a runner on first with nobody out in the second when he induced a tailor-made double play off the bat of Victor Martinez. Blue Jays second baseman Emilio Bonifacio was in perfect position to make the play but had the ball roll under his glove as runners advanced to first and third.
Detroit's Jhonny Peralta then followed with an RBI single before Johnson retired the next two batters and gave himself a chance to escape the inning with only one run. That changed with one swing of the bat when catcher Alex Avila connected on a three-run shot over the wall in left for his sixth home run of the year.
Johnson then created his own problems in the third when he committed a pair of fielding errors that led to yet another unearned run. The only Tigers mark that was actually charged to Johnson came in the fifth, when he allowed a solo shot to Martinez on a 1-2 count after being unable to put the designated hitter away with a breaking ball.
The 29-year-old Johnson has now allowed 11 runs over his past 8 1/3 innings of work. That followed a string of three strong outings, but Johnson is still searching for consistent success during his first season in Toronto. The pending free agent has an ERA of 4.89 and just one win in 10 starts during a season that was previously plagued by a right triceps injury.
"I got to pick up my teammates," Johnson said of the second-inning error. "Things like that are going to happen. I got to make better pitches, get outs, and get outs quicker."
Toronto was unable to generate much offense against Tigers right-hander Max Scherzer, who improved to 13-0 with another strong performance on the mound. Scherzer allowed just a pair of runs in the sixth while striking out eight in 6 1/3 innings. He became the first pitcher to start a season 13-0 since Roger Clemens began the 1986 campaign with a perfect 14-0 mark.
The Blue Jays now find themselves two games below .500 and are in serious danger of losing their third consecutive series when the four-game set vs. Detroit wraps up on Thursday. There could be fireworks, as Scherzer called the Rasmus slide "very dirty," but Toronto's outfielder said he wasn't concerned about possible retribution.
"I'm going up there ready to hit," Rasmus said. "If they hit me, that's part of the game, too. Take it, put some ice on it, and go on about my business."
Gregor Chisholm is a reporter for MLB.com. Read his blog, North of the Border, and follow him on Twitter @gregorMLB. This story was not subject to the approval of Major League Baseball or its clubs.