Gomes delivers win for Red Sox with walk-off HR
Gomes delivers win for Red Sox with walk-off HR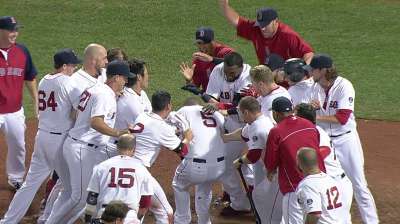 BOSTON -- For a part-time player, Jonny Gomes sure has played a prominent role for the Red Sox, particularly when the game is on the line.
There was Gomes again at home plate on Wednesday night, mobbed by 24 teammates after his walk-off shot over the Green Monster led the surging Red Sox to a 2-1 victory over the Padres.
If it seems like Gomes keeps coming through in the clutch, it's because he has.
This hit came just 15 days after Gomes finished off the Rays with a walk-off blast over the Monster. And just five days after Gomes snapped a tie against the Blue Jays with a pinch-hit RBI single.
Wednesday's walk-off rocket was also in a pinch-hitting role. It was the third pinch-hit homer for Gomes this season, and the sixth of his career.
You'd have to go back to Bernie Carbo in 1977 to find the last Red Sox player to have three pinch-hit homers in one season.
"He stays prepared," said Red Sox manager John Farrell. "That's one thing, in the role that he's in, he's got a lot of experience in it and I guess a flair for the dramatic."
That flair for the dramatic has become a team-wide thing for the Red Sox. Of their 30 wins at home, eight have come via the walk off.
"I guess it's just been my turn," Gomes said. "I mean, gosh, there's been key hits. I think all nine guys have gotten big hits at some point throughout the first half of the season."
If only being a role player was as easy as Gomes sometimes makes it look.
"I definitely don't want any pats on the back, but it's definitely tough," Gomes said. "That's why we get here at two o'clock for a seven o'clock game to get ready. When you get here at two and get in at 10, it's a little different."
The game-winning blast came against Padres right-hander Luke Gregerson on a 2-2 slider.
"It was a little up in the strike zone. He threw a couple low ones that Gomes swung through," Padres manager Bud Black said. "Gomes was probably looking for [the slider] again."
Yes, the slider. Gomes was sitting on it. Yet he knows he was fortunate to get one he could handle.
"If that guy throws good sliders like he did the inning before and he did to me the first three pitches, no one's going to hit him," said Gomes. "So all I do is get one of those sliders up, and the count was 1-2 and I let the slider go by and then kind of set my sights to get one up, and then got some good wood on the last one."
All that was left was to determine the end of his walk-off trot.
When Gomes finished off the Rays with that walk-off shot on June 18, he punted his helmet before he got to home plate. This time, Gomes faked the punt and then made like a running back, sprinting into a mob of congratulatory teammates.
"The fake punt. Yeah, I mean you got to keep everyone on their toes, right? I think I'm all out of tricks now to tell you the truth, so that's about it," said Gomes.
It was the continuation of a terrific homestand for the Red Sox, who are 7-1 heading into Thursday's matinee finale against the Padres. At 52-34, Boston leads the Orioles by 3 1/2 games in the American League East.
This was also Jon Lester's best start in weeks. Over seven innings, the lefty scattered six hits and gave up just one run, walking one and striking out five.
"He was good in the bottom of the strike zone," said Farrell. "You know, the sixth inning was the key. We get into a situation where it's first and second, he gets a key double play and then a strikeout to end it. He just continued the performance that he set last time out against Toronto and it was good to see him on a hot muggy night get through seven solid innings and keep the game in check. That was a well pitched game all the way around, and good to come out on the right side of it."
Despite the strong performance, Lester took a no-decision, as the Red Sox were locked in a 1-1 tie when he departed.
Lester battled in the first inning, throwing 32 pitches. But the Padres only got one run for their trouble, and it came on an RBI single by Kyle Blanks.
Padres starter Edinson Volquez made that slight lead stand until the fourth, when Mike Carp led off with a single and Jarrod Saltalamacchia cranked an RBI double to center.
By the end of the night, the biggest moment belonged to Gomes.
"Every night, somebody else picks our team up in different situations, and Jonny did it again tonight," said Lester. "He's done a great job. I know the clubhouse stuff has been talked about a little bit more than his play on the field, but all around, he's been great for us."
Ian Browne is a reporter for MLB.com. Read his blog, Brownie Points, and follow him on Twitter @IanMBrowne. This story was not subject to the approval of Major League Baseball or its clubs.