Archer works to build confidence in changeup
Archer works to build confidence in changeup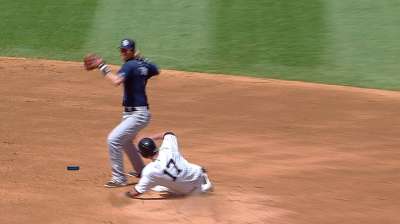 HOUSTON -- Chris Archer did not have his changeup for his last outing, a five-inning no-decision against Detroit. He is hoping to regain that pitch when he takes the mound for the Rays as they complete a four-game series with the Astros at 2:10 p.m. ET on Thursday.
"You get people out in the strike zone; you don't have to throw four or five pitches to get people out -- you can throw two or three," Archer said.
Good thing, because Archer did not feel comfortable with his changeup in the bullpen prior to that outing against the Tigers, where he yielded five hits and three runs with both three walks and strikeouts.
"I'm not going to throw a pitch that I'm not completely confident in," Archer said. "It was just one of those days, I didn't have it. I felt good about where my fastball was and my slider. So I just stuck with those two."
Archer said he thought that when the change-up came around, it would take him to the next level.
"I did throw too many pitches, but I felt like I was in control," he said. "A few pitches, I tried to do too much, which led to five-pitch at-bats."
Continuing to learn his craft is also extremely helpful. Archer said David Price had been a tremendous influence on him in his young career.
"Most importantly to be a good teammate, and, secondly, how to compete," Archer said. "He's basically what I'm striving to be."
"He's got the stuff to be a really high-end starter," Rays manager Joe Maddon said of Archer. "He's got a great fastball, slider, changeup. He's got everything he needs. It comes down to what you're thinking, how you're able to perform in the moment, not trying to do too much, getting outs early -- all that stuff matters."
Archer said he was not concerned about pitching during the day and getting out of any routine.
"I don't mind at all," he said. "Something small like [pitching during the day] isn't going to bother me. The pitcher always has the advantage. If I stay in the zone, I'll be fine."
Glenn Sattrell is a contributor to MLB.com. This story was not subject to the approval of Major League Baseball or its clubs.