Ibanez reaches home run milestone
Ibanez reaches home run milestone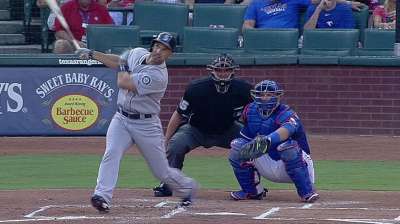 ARLINGTON -- When Mariners left fielder Raul Ibanez cranked his 20th home run of the season in the first inning of Tuesday's 9-2 victory over the Rangers, he became the oldest player in Major League history to hit 20 homers before the All-Star break.
That feat, noted by Elias, is just the latest milestone for Ibanez as he continues on one of the most impressive power-hitting runs ever by a 41-year-old.
Barry Bonds set the previous record for oldest player with 20-plus homers prior to the break when he hit 23 at age 39 in 2004.
Harold Baines (1999), Edgar Martinez (2003) and Darrell Evans (1987) all had 19 home runs prior to the All-Star break at age 40.
"It's impressive," said Joe Saunders, the latest Mariners starter to benefit from Ibanez's hot streak. "We are impressed about how he goes about his business and what a great teammate he is. He's always got our back and we definitely have his back. He's a phenomenal player and he's having a phenomenal year. Hopefully he keeps it going."
Ibanez already has the sixth-most home runs in a season for a Major League player age 41 or older. He needs one more to tie Dave Winfield for fifth on that list and nine more to tie Ted Williams, who set the record with 29 in 1960.
"Amazing," said Mariners manager Eric Wedge. "But if you just follow him around, watch what he does all day, he's always doing something, always working. He works so hard in the winter time to put himself in the best position mentally as well as physically. He knows himself, fundamentally. You watch him in batting practice, it's so calculating. It all leads to success in games."
Greg Johns is a reporter for MLB.com. Follow him on Twitter @GregJohnsMLB as well as his Mariners Musings blog. This story was not subject to the approval of Major League Baseball or its clubs.