Dominant Harvey disappears in loss to D-backs
Dominant Harvey disappears in loss to D-backs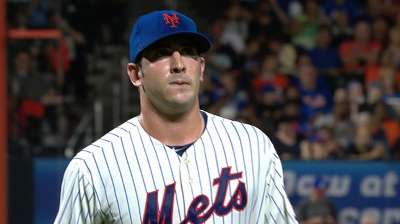 NEW YORK -- The atmosphere Wednesday at Citi Field was similar to what Matt Harvey might see two weeks from now, when the Mets host the All-Star Game in Flushing -- 41,257 strong, yelling and screaming and hanging on every pitch.
But the results, for Harvey, were not consistent with the All-Star quality he has come to expect. The Mets' ace gave up a career-high five runs in six-plus innings of a 5-3 loss to the D-backs, hurting his candidacy to start the Midsummer Classic for the National League.
"I take one start at a time, and tonight, it wasn't a good one," Harvey said. "I'm not going to step back and look at anything until the season's over. We've got a long way to go."
After Harvey escaped a bases-loaded, one-out jam in the first, he appeared to find his groove, striking out the side in the second and retiring seven D-backs over a four-inning span. But a one-out walk to Miguel Montero in the sixth, a single by Martin Prado and a three-run homer from Cody Ross put Harvey on the hook for his second loss.
"I was trying to throw a slider there and kind of got behind it," Harvey said. "It was pretty much spinning on a tee for him."
"He's throwing 98 [mph], so you have to get your foot down early and try to see and square it up," Ross said. "Luckily, he threw a slider that sort of started at me, and I saw it good and put a good swing on it, and luckily, it had enough distance to get out."
It took some spunk out of the sellout crowd, which had come to see both Harvey and the postgame fireworks show. But a comeback still seemed possible -- even probable, for these newly energized Mets -- until Harvey put the first three men he faced in the seventh on base. Eric Chavez's RBI double finally chased him, and Montero greeted reliever Scott Rice with a sacrifice fly to close the book on Harvey: six-plus innings, nine hits, five runs and nine strikeouts.
"We've seen him pitch a lot better, that's for sure" said manager Terry Collins, who chalked much of Harvey's struggles up to the one-hour, 51-minute rain delay that preceded the game, interfering with his normal warmup routine.
The Mets did their only damage against D-backs starter Randall Delgado in the fourth inning, on solo homers by David Wright and Josh Satin -- the first of Satin's career. Otherwise, they could barely touch Delgado, who struck out a career-high nine.
Daniel Murphy added a solo homer off David Hernandez in the eighth, but this time, the Mets could not complete the comeback.
It was a difficult result for their largest crowd of the year to swallow, though the fans did provide glimpses of things to come. In 13 days, Major League Baseball's All-Stars will descend upon Citi Field, with Harvey and Wright almost certainly among them.
For Harvey, the only question is whether he will start the game. Harvey briefly took over the NL ERA lead in the middle innings of Wednesday's game, but lost it when he gave up Ross' home run. He is fifth in the Majors in ERA (2.27), second in strikeouts (141) and tied for 26th in wins (seven).
Though Harvey refused even to consider thoughts of the All-Star Game after Wednesday's loss, Collins admitted that his best pitcher has been consumed by the thought of it. And Wednesday gave him a glimpse of what that stage might look like.
In large part due to the postgame fireworks, and despite the lengthy delay, Citi Field was as consistently loud Wednesday as during any point this season. Fans cheered for Harvey, they roared for Wright and Satin and they remained loud until the final out.
"It was electric," said Satin. "It was the best atmosphere I'd ever been around in the big leagues, for sure."
That the Mets could not reward them with a win was the misfortune of the night. But through 81 games, the exact midpoint of the season, Harvey has provided his fans with far more highlights than lowlights -- enough to make the All-Star Game a near-inevitability.
"He's pretty jacked up about all he's facing right now," Collins said. "He's all fired up about the All-Star thing. [The media] does such a good job making sure he knows what's happening, what's going on, what the possibilities are, that it's pretty hard to block it out -- even though he does a good job as anybody. When it's rubbed in your face every day, it's pretty hard to ignore."
Anthony DiComo is a reporter for MLB.com. Follow him on Twitter @AnthonyDicomo. This story was not subject to the approval of Major League Baseball or its clubs.