Garza outduels Colon for third straight win
Garza outduels Colon for third straight win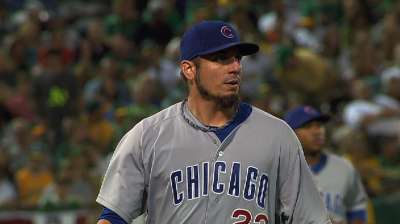 OAKLAND -- If Wednesday was Matt Garza's last start for the Cubs, he left a good impression.
Garza held the A's to four hits in eight innings, Luis Valbuena belted a solo home run, Brian Bogusevic added an RBI double and Alfonso Soriano hit an RBI single to lead the Cubs to a 3-1 victory and end Bartolo Colon's eight-game winning streak.
Garza was the star of the show.
"That was as good as I've seen him in two years, especially against seven left-handers in the lineup," Cubs manager Dale Sveum said. "His command of his fastball down and away [was sharp]. He had the extra velocity when he needed it, first-pitch strikes, you can go on and on. That was as impressive as you're going to get."
"I had a game plan and kept attacking," Garza said.
There were plenty of scouts among the sellout crowd of 35,067 at O.co Coliseum to watch Garza, whose name has been mentioned in trade rumors since Spring Training.
"In the world of trading for starting pitchers, when you think you have a chance at the playoffs, you want them for more than eight or nine starts," Sveum said. "You don't want to give up prospects for eight starts."
Last year, Sveum watched as two-thirds of his rotation was dealt at the Trade Deadline. That could happen again. On Tuesday, Scott Feldman was shipped to the Orioles. Garza may be next.
"I don't brace for anything, because I don't have control over that," Sveum said. "It's part of the business and that's where we are at that part of the season."
Garza is well aware of the rumors and has done everything he can to ignore them.
"Six, seven years, my name has been thrown around," he said. "Until my phone rings, I'm going to be a Cub and I'm going to stay a Cub. We'll see."
For Garza, it was business as usual. He now has given up three earned runs over his last 30 innings, and won his third straight start.
"I'm just pitching and not even worrying about anything," he said. "I'm just worried about the next five days. I've got the White Sox in the next five days."
Still, the right-hander has rebounded from an elbow injury that shut him down for the last two months of last season. He missed all of Spring Training with a lat injury.
"Early on, I kept saying it was mechanical," Garza said. "Now, I've ironed it out and now I'm not worried about mechanics and I'm more worried about hitting my spots and not focused on anything else."
Starlin Castro was safe on an infield single with one out in the first, moved up on a wild pitch by Colon, his first since May 2009, and scored one out later on Soriano's single.
Valbuena made it 2-0 with a solo home run with one out in the third that right fielder Josh Reddick just missed. Reddick slammed his glove against the wall in disgust. For Valbuena, it was his second home run in three career at-bats against Colon. Valbuena's first big league home run came June 7, 2009, off the right-hander when he was with the White Sox.
The Cubs used an extreme defensive shift against Brandon Moss, who cleared all defenders by hitting his 15th home run with two outs in the fourth.
Colon, 40, named the American League Pitcher of the Month for June, scattered nine hits over seven innings and did not strike out anyone.
The Cubs had multiple scoring opportunities. Nate Schierholtz tripled with two outs in the third and was stranded, and Julio Borbon tripled with one out in the seventh and didn't score. Finally, with two outs in the eighth, Dioner Navarro and Bogusevic hit back-to-back doubles for a 3-1 lead.
Sveum had pitchers up in the bullpen in case Garza struggled.
"Bogusevic's double off [Sean] Doolittle kept Garza in the game and added a run there," Sveum said.
Kevin Gregg worked a scoreless ninth for his 14th save in 15 opportunities.
Now, Garza is thinking about pitching in October. And not necessarily for another team.
"My job right now is to try to get my team to October," he said. "We're scratching and clawing our way back. We're going to keep playing and keep going and see where it ends up.
"I love pitching in October and would love to take this team to October," he said of the Cubs, who were 15 games out and would have to stage a historic rally to do so. "October sounds like a lot of fun, but I have to get past the next five days."
And for whom? We'll see.
Carrie Muskat is a reporter for MLB.com. She writes a blog, Muskat Ramblings, and you can follow her on Twitter @CarrieMuskat. This story was not subject to the approval of Major League Baseball or its clubs.