Lineups in flux as young Astros find identities
Lineups in flux as young Astros find identities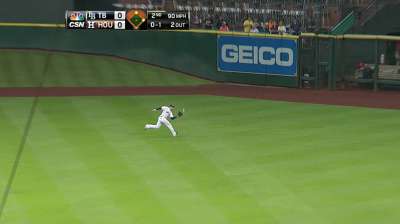 HOUSTON -- Don't blink, or you just might miss a different Astros lineup.
Because of a plethora of injuries, young callups, struggling bats and personal issues, recent Houston batting orders and defensive lineups have rarely looked similar from one game to the next, especially in the outfield.
Including Wednesday's game, the Astros have trotted out 16 different batting orders in as many games, with every player hitting from at least two different spots during that stretch.
"Our lineup is going to remain fluid, because we have guys trying to establish themselves as Major League players," manager Bo Porter said. "Looking at different matchups and scenarios, I'm going to move these guys around to try to give us the best opportunity to maximize some runs."
The Astros certainly have not been maximizing runs as of late, scoring nine times in the last six games and failing to plate a run in 34 of their last 36 innings.
Porter said he was not afraid to tinker with the status quo and players are said not to crave consistency, meaning that a different spot in the order would not change their approach.
With recent Triple-A callups in Brett Wallace, Jake Elmore and Marc Krauss to go with Jimmy Paredes, who was recalled from Oklahoma City after Justin Maxwell's injury, consistency has not been an option for Porter.
"When you don't have established players, you do everything you can to just put them in position to be successful," Porter said. "Sometimes, that comes with leaving it set the way it is. Other times you go, 'OK, I think the same way is the best way to go.' All my decisions are based on what's best for the Houston Astros today, with a watchful eye on tomorrow."
The outfield has been the most fluid area defensively, with Maxwell's myriad of ailments and Trevor Crowe's shoulder injury throwing the unit for a loop.
Houston has run out 10 different outfield combinations over the last 16 games. The most common of those combinations started Wednesday, with Brandon Barnes in center, J.D. Martinez in right and Chris Carter in left. That has been the outfield squad for five of the last seven games.
Barnes has been by far the most consistent player of the bunch, with Wednesday's start making 31 of the last 34 games for the 27-year-old rookie in center. He has not just been a body there, either, turning in highlight-reel-worthy plays seemingly every other game.
"We knew coming into the season how good defensively Brandon can be in center field," Porter said. "The only question mark was: Was he going to be able to handle the duties with being an everyday guy, facing righties and lefties? Defensively, he's one of the best center fielders in baseball. He's holding down that fort for us."
Chris Abshire is an associate reporter for MLB.com. This story was not subject to the approval of Major League Baseball or its clubs.