Ross making progress in concussion recovery
Ross making progress in concussion recovery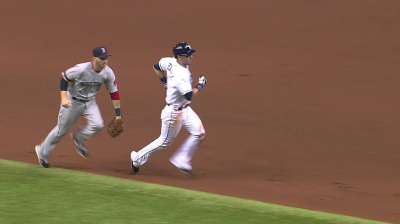 BOSTON -- Though Red Sox catcher David Ross remains with his family in Florida as he recovers from his second concussion of the season, manager John Farrell had an encouraging update on Wednesday.
"He's had three or four really good days consecutively here," said Farrell. "He's still got next Tuesday as a follow up with Dr. Collins in Pittsburgh. His scheduled return for us is undecided right now. But he's started to work out with some exercise on elliptical, stationary bike. He's started to throw a little bit.
"He's started to lift some weights. The sensations that he feels as a result of the concussion are starting to really diminish. Most importantly, when he gets into open-space areas where you've got a lot of movement and a lot of noise, that's starting to really subside."
With Ross absent since June 14, the continued improvement of Jarrod Saltalamacchia behind the plate has been big for the Red Sox.
"You credit a catcher as an integral part to the success of the team, the success of the pitching staff, and numbers bear that out," said Farrell. "The one thing Salty has embraced wholeheartedly is maybe a little bit more of a structure around him with the description of the game plan and the communication that he and [pitching coach] Juan [Nieves] and every starter he handles, every pitcher that he handles between innings.
"The one thing I'll tell you he's doing a better job at is the reading of swings. That gives you all the information you need to make the next selection. He's doing a very good job of that."
Farrell said that Ryan Lavarnway will start Thursday afternoon's game against Padres left-hander Eric Stults.
Ian Browne is a reporter for MLB.com. Read his blog, Brownie Points, and follow him on Twitter @IanMBrowne. This story was not subject to the approval of Major League Baseball or its clubs.