Fowler hopeful hand injury will heal up soon
Fowler hopeful hand injury will heal up soon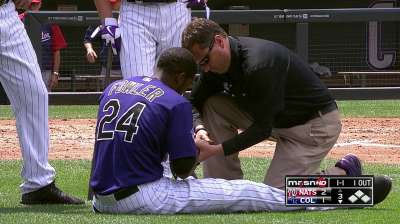 DENVER -- Twenty-four hours ago, Dexter Fowler's name was in the lineup and it appeared he would make his first start since June 25. But Fowler was a late scratch from the lineup, and soon after, Rockies manager Walt Weiss announced he was placed on the 15-day disabled list.
Fowler said he felt better before the game on Tuesday, but when he started swinging the bat, the right-hand soreness returned. He received a shot to help with the healing Saturday night, but it didn't work.
"I think [the disabled list is] the best option," Fowler said. "I got a shot and everything and it still hurts a little bit. We don't want it lingering on the rest of the year."
The Rockies center fielder first went down with a bruise on his right ring finger when he was struck with a pitch as he attempted a bunt in mid-June. But Fowler said the new injury is a bone bruise on his right hand he sustained on an awkward swing during his second at-bat against the Red Sox eight days ago.
With the Rockies embroiled in a remarkably tight race in the National League West, Fowler knows healing for the long term is more important than spending an extended period floating in and out of the lineup.
"It's not structural damage," he said. "It's just a bone bruise. It's going to be sore for a while and it's just a matter of what you can handle. Right now, it's just I don't want it to get worse when it's getting better. So I think the best thing to do is rest it."
On pace for the most productive season of his career, Fowler is hitting .291 with 10 homers, 15 extra-base hits and 26 RBIs. His DL stint is retroactive to June 26, and Fowler said he is optimistic he will be ready to come off when he's eligible on July 11.
Ian McCue is an associate reporter for MLB.com. This story was not subject to the approval of Major League Baseball or its clubs.