Dickerson, Colvin to split time in center field
Dickerson, Colvin to split time in center field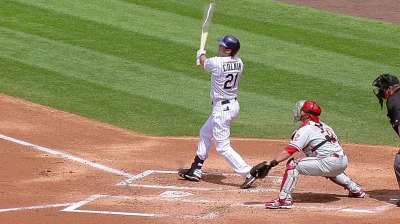 DENVER -- With Fowler absent from his usual post in center field until at least July 11, Rockies manager Walt Weiss said Corey Dickerson and Tyler Colvin will split time in his place.
Dickerson, who made his Major League debut June 22, made his third career start in center field against the Dodgers on Wednesday and hit in the leadoff slot.
"[Dickerson] runs well and he's a good hitter, puts the ball in play, aggressive," Weiss said. "He hit leadoff all spring down in [Triple-A] Colorado Springs, so he's comfortable there."
Dickerson had four hits and driven in one run in his first 17 at-bats. After he tore up the Pacific Coast League with a .386 average, 38 RBIs and -- most striking of all -- 107 hits in 66 games with Colorado Springs, Weiss sees plenty of big league potential.
"I know Corey can play up here, he can hit up here," Weiss said. "He'll get some opportunities, Tyler's going to get opportunities. So we'll mix and match with those guys in the outfield with Dexter out."
Colvin has much more big league experience, appearing in 135 games in 2010 and 136 games last year. But since his callup June 8, he's hitting just .164 in 20 games.
Colvin got off to a torrid start this year, smashing two of his three homers in his first start of 2013. He's been in an extensive slump since, going 2-for-32 (.063) since June 17, but Weiss said he saw signs of improvement from Colvin when he started in center on Tuesday.
"He's taken some good swings lately," Weiss said. "I thought he took some good swings last night against a real tough left-hander. I think he's past that rough stretch that he went through."
Ian McCue is an associate reporter for MLB.com. This story was not subject to the approval of Major League Baseball or its clubs.