Angels' streak snapped at seven
Angels' streak snapped at seven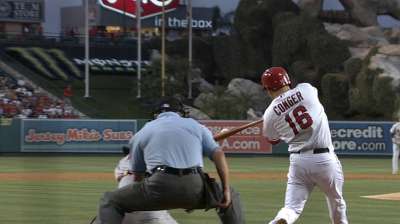 ANAHEIM -- The Angels' seven-game winning streak, which was built on a foundation of strong starting pitching, came to an excruciating halt with a 12-2 loss to the Cardinals after Jerome Williams couldn't get out of the second inning on Wednesday night at Angel Stadium.
While the past seven games were filled with excitement and strong play, this one was three hours and 22 minutes of baseball the Angels will be happy to forget.
"You're going to have your games that get away from you," Angels manager Mike Scioscia said. "Tonight was one of them. We really didn't have a chance and that's going to happen from time to time and we know how we have to go about setting up a game and playing a game and we just didn't get it done tonight."
In each of the previous five games, the Angels had allowed no more than two runs. In their last seven games, the starting pitchers had an ERA of 2.76.
However, both those statistics proved irrelevant as Williams allowed seven runs on four hits and four walks -- three of which scored -- in just 1 2/3 innings.
"I think walks killed me," Williams said. "Walk guys, they're going to score."
Williams description of his performance was succinct.
"Frustrating," Williams said.
While Williams was stuck with the loss, he was hardly the only pitcher with a disappointing outing.
Over the final 7 1/3 innings, Garrett Richards, Michael Roth and Billy Buckner allowed nine hits, five runs (four earned) and hit a pair of batters. Richards was also charged with an error.
Williams retired the Cardinals in order in the first inning, but when he came back out for the second, nothing seemed to work.
"The first inning, he looked sharp, had good velocity, good action on his sinker," Scioscia said. "Starting the second inning, he looked a little bit tentative, and the walks obviously compounded that inning. He couldn't minimize some damage, and the inning got away from him."
The first three Cardinals to step up to the plate in the second reached base as Williams walked Allen Craig, gave up a single to Yadier Molina and walked Matt Adams.
David Freese then drove in the first run of the game with a groundout to third, which was followed up by Daniel Descalso's two-run double.
Matt Carpenter, who also hit a solo home run in the seventh, added an RBI single before Jon Jay hit his fifth home run a the season -- a two-run shot to center field that Mike Trout got a glove on, but couldn't reel in.
"With my sinker working I think even if I do walk a guy, I can get a ground ball double play," Williams said. "With the bases loaded I wanted to do that to Freese and I got the ground ball, but after that maybe I was trying to do too much."
When it was all said and done, the Cardinals' second inning consisted of five hits, seven runs and 12 plate appearances.
"It was nice to get that offense rolling today," Carpenter said. "We have been through a little bit of a rough patch, and this is the kind of game that will jump-start an offense and get back on a winning streak."
The Angels' runs came in the bottom of the second when Hank Conger hit a two-run home run to right field.
After the Angels had an eight-game win streak come ot an end earlier in the season, they lost 11 of their next 15 games. Although the team certainly does not want to replicate that, it is only focused on Thurday's series finale.
"All we've got to do is come back tomorrow and start another one," Williams said. "We've got to come back tomorrow and do the things we've been doing in that streak."
William Boor is an associate reporter for MLB.com. This story was not subject to the approval of Major League Baseball or its clubs.