Dodgers waiting for Marmol to report to club
Dodgers waiting for Marmol to report to club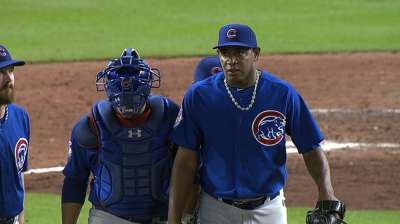 DENVER -- Other than knocking down reports that he had been designated for assignment, the Dodgers were vague about the whereabouts and status of newly acquired, but unseen, reliever Carlos Marmol.
All that manager Don Mattingly would say was that Marmol's required window to physically report had ticked down from 72 hours to 48 hours, "but I haven't heard anything to suggest he won't report in the next 48 hours."
"I'm not sure where he is," said Mattingly, "but his time is getting shorter."
But Mattingly wouldn't even say where Marmol would report. After making the trade, general manager Ned Colletti said he spoke by phone with Marmol, who was in his native Dominican Republic after having been designated for assignment by the Cubs.
The Dodgers want Marmol to accept a Minor League assignment to work on mechanical flaws, and whatever roster maneuvers undertaken Wednesday (likely outright waivers) would make that assignment possible if he cleared waivers and accepted the assignment.
If he rejects the assignment, the Dodgers must either bring him to the Major Leagues or let him become a free agent.
The Dodgers traded Matt Guerrier for Marmol and $290,700 in international signing bonus room.
Ken Gurnick is a reporter for MLB.com. This story was not subject to the approval of Major League Baseball or its clubs.